AboutComposerBernstein and Chamber Music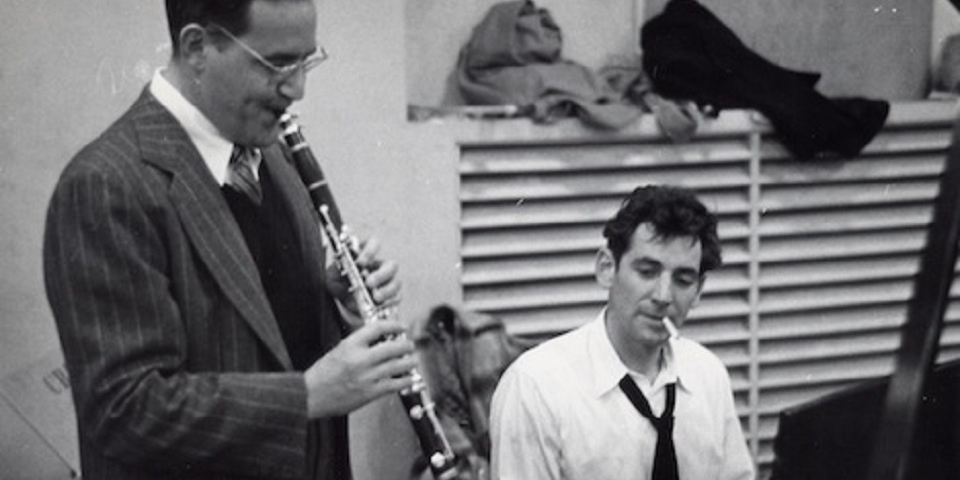 Leonard Bernstein and Benny Goodman in Rehearsal. Photo by Fred Plaut, ca. 1951; Yale University Library
Bernstein and Chamber Music
"Rule Number One in orchestral playing is: it's all chamber music."
– Leonard Bernstein
Leonard Bernstein's major concert and stage works are well known and performed often. Not as familiar, but no less significant, is his output of chamber music. Even the earliest of these works are imbued with his unmistakable compositional style. He was a renowned pianist and accompanist, and throughout his life he enjoyed the intimate musical connections he made writing and playing chamber works with his fellow artists.
While a student at Harvard, Bernstein composed works for small ensemble, including the Piano Trio (1937), the Sonata for Violin and Piano (1940)—written for fellow student Raphael Hillyer—and his very first published work, the Sonata for Clarinet and Piano (1941–42). The Sonata for Clarinet and Piano, now a staple of the chamber music repertoire, was transcribed and recorded by cellist Yo-Yo Ma. Another chamber work for clarinet, Prelude, Fugue and Riffs (1949) for clarinet solo and jazz ensemble was dedicated to, Benny Goodman.
The dramatic changes in Bernstein's life in 1943 (he was named Assistant Conductor of the New York Philharmonic, and shortly thereafter made career-changing, front-page headlines) may have diverted his energies away from composing more of these smaller-scaled works. Nevertheless, throughout the rest of his life he wrote songs and solo and chamber works for the recital hall, notably Three Meditations from Mass (1971) for cello and piano; Halil (1987) for flute, piano, and percussion; and Arias and Barcarolles (1988) for four singers and piano four-hands.
CHAMBER & SMALL ENSEMBLE WORKS
Ensemble & Chamber without voice(s)
Piano(s)
Vocal
Choral
Instrumental
TRANSCRIPTIONS, ARRANGEMENTS & REDUCTIONS
Ensemble & Chamber without voice(s)
Ensemble & Chamber with voice(s)
Piano(s)
Vocal
Choral
Instrumental