News
New Issue!!

Prelude, Fugue, & Riffs
Fall/Winter 2020-2021

Celebrating Beethoven and Bernstein

This L(v)B issue includes a statistics-driven narrative on Bernstein's performances of Beethoven's works throughout his career; a glimpse into Bernstein's interpretation of Beethoven's only opera "Fidelio," a comparison of the conductor's two recording traversals of the Nine Symphonies, a look into Bernstein's legacy of Beethoven's piano concertos, and much more!

New Album: Bernstein Reimagined due out January 21, 2021

The Smithsonian Jazz Masterworks Orchestra explores the vast, diverse repertoire of Leonard Bernstein on stunning, revelatory new album. Bernstein Imagined, due out January 29, 2021, via MCG Jazz, explores lesser-known Bernstein pieces through the transformative lens of five gifted jazz arrangers.

Leonard Bernstein Works for Smaller Ensembles

For Live Performance under Social Distancing Regulations

As presenters and performers continue to contend with restrictions imposed by coronavirus and the performing arts search for ways to restart, Leonard Bernsteinl's innovative scores offer a wide range of audience-pleasers.
Latest News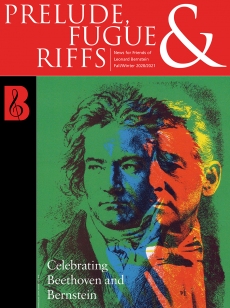 Browse the current and past issues of our newsletter, Prelude, Fugue & Riffs!
Newsletter
Come on, deliver...
to me!
Subscribe today
Monday January 18, 2021
7:00 pm
bergenPAC, Englewood, United States
7:00 pm
Theater am Domhof, Osnabrück, Germany