About Felicia Montealegre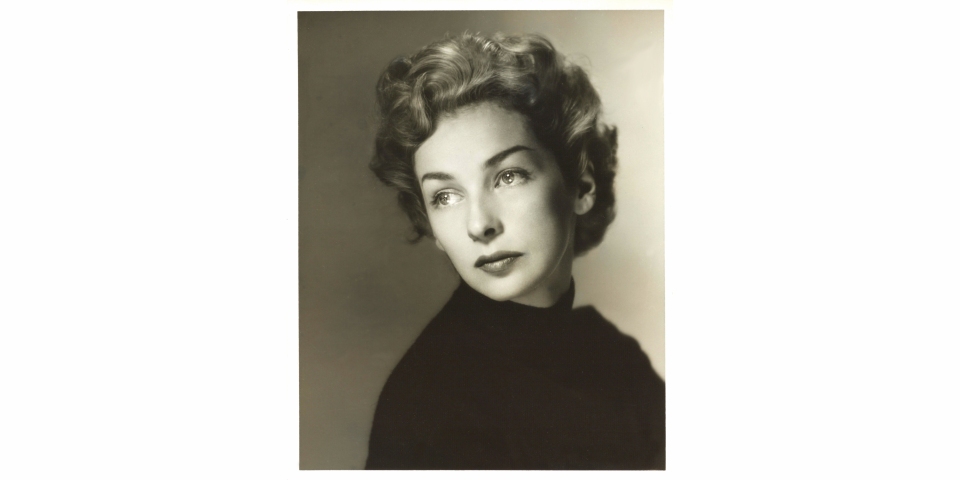 Felicia Montealegre Bernstein, publicity photo. December 10, 1957. Photographer Unknown. Courtesy of the Library of Congress Music Division.
Felicia Montealegre Bernstein (née Cohn) (February 6, 1922 – June 16, 1978) was an actor and social activist whose career ranged from major television network appearances to roles in theaters (both on Broadway and off), opera houses, and concert halls throughout the world. Montealegre's career blossomed at the dawn of the Golden Age of Television. While simultaneously raising her young family, she was regularly appearing in the televised dramas of the time. Her concert performances included several collaborations with her husband, composer and conductor Leonard Bernstein.
Felicia's mother, Clemencia Montealegre of Costa Rica, was the youngest of eleven children. Her second daughter, Felicia, was born in San José, Costa Rica, on February 6, 1922. Felicia's father, Roy Cohn, was an American mining engineer descended from an Eastern European Jewish family. He met Clemencia while working in San José, and was transferred to Santiago, Chile, to head the American Smelting and Refining Company when Felicia was a child. Felicia and her two sisters, Nancy and Madeleine, grew up in Santiago, Chile, in a multilingual, cosmopolitan household. The girls were educated in a British convent school there.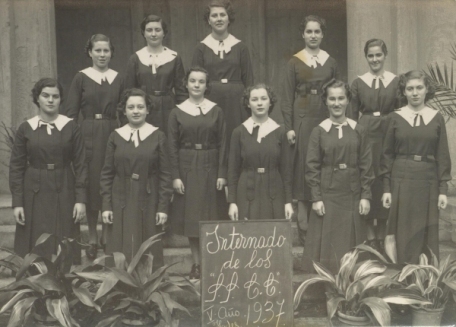 Felicia (holding sign), in her school's class photo, 1937. Courtesy of the Library of Congress Music Division.
As an adolescent, Felicia had already decided she wanted to live in the United States. Because her father was American, she was able to adopt his citizenship. At age 21, she went to the United States embassy in Santiago and took an oath of allegiance to the United States. Two years later, she emigrated to the United States and lived there for the rest of her life.
Felicia arrived in New York City in 1944, ostensibly to study with celebrated Chilean pianist Claudio Arrau. However, she promptly enrolled at the Drama Workshop of the New School for Social Research under the tutelage of Herbert Berghof, who would later direct several of her theatrical roles. She took the stage name Felicia Montealegre, adopting her mother's maiden name. Montealegre made her first New York acting appearance in Garcia Lorca's If Five Years Pass at the Provincetown Playhouse. In 1946, at the age of 24, Montealegre made her Broadway debut in Swan Song, by Ben Hecht and Charles MacArthur.
Beginning in 1949, Montealegre starred in leading roles on weekly television anthology dramas for Kraft Television Theatre (NBC), Studio One (CBS), The Chevrolet Tele-Theatre (NBC) and The Philco Television Playhouse (NBC), among others. In 1949 alone, she starred in ten teledrama roles, including as Mildred Rodgers in an adaptation of Somerset Maugham's Of Human Bondage, performing alongside actor Charlton Heston. That year, she was named Most Promising Female Star by Motion Picture Daily's Television Fame Poll.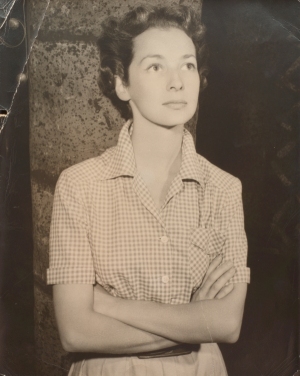 Portrait of Felicia Montealegre. Courtesy of the Library of Congress Music Division.
Her acting career flourished throughout the 1950s. Montealegre's major Broadway roles and frequent appearances at summer festival playhouses included A Doll's House, Forgotten Melody, High Tor, Torch for a Dark Journey, The Wings of the Dove, Jessica in The Merchant of Venice (New York City Center), Along Came a Spider, The Death of Rasputin (an episode of "You Are There" hosted by Walter Cronkite), Emma Woodhouse in Emma, Katharine in Henry V (Cambridge Drama Festival), Ismene in Antigone, and Margot Wendice in Dial M For Murder (Palm Beach Playhouse). In 1952, she gave birth to her first daughter, Jamie, and returned to her acting career just a month later, appearing in a "Kraft Television Theatre" production of Divine Drudge. In 1955, she gave birth to her son, Alexander; another daughter, Nina, followed in 1962.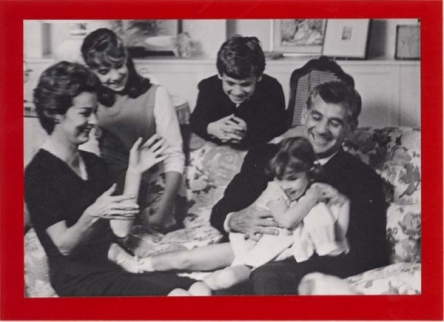 Felicia with Jamie, Alexander, Leonard, and Nina. Photographer unidentified. Courtesy of the Library of Congress Music Division.
Montealegre began performing in classical music concerts in 1957 as the narrator in Lukas Foss's Parable of Death. Her repertoire with orchestra also included Honegger's Joan of Arc at the Stake, Debussy's The Martyrdom of St. Sebastien (for which she was praised in the St. Louis Globe-Democrat for her "great dramatic power"), Stravinsky's Perséphone, and her husband Leonard Bernstein's Symphony No. 3: Kaddish in 1964. Bernstein wrote the symphony's narration with Montealegre expressly in mind. Her performance of Honegger's Joan of Arc, which featured soprano Leontyne Price in the role of Margaret, was hailed in The New York Times (Howard Taubman; 1958) for its "touching simplicity".
Montealegre worked with such notable conductors as Rafael Kubelik (The Metropolitan Opera); Theodore Hollenbach (Rochester Oratorio Society); Lukas Foss (Syracuse Friends of Chamber Music); her husband Leonard Bernstein (New York Philharmonic); Edouard Van Remoortel (St. Louis Symphony); Josef Krips (San Francisco Symphony); Fabien Sevitzky (University of Miami Symphony Orchestra); Charles Munch (Boston Symphony Orchestra); Milton Katims (Seattle Symphony); and many others.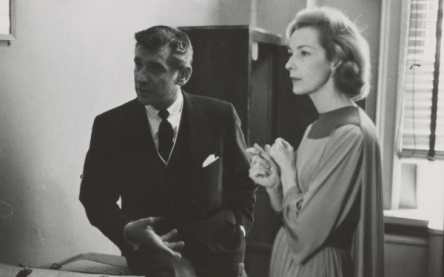 Leonard Bernstein and Felicia Montealegre backstage at a performance of Honegger's "Joan of Arc at the Stake" with the New York Philharmonic at Carnegie Hall, 1958. Courtesy of the Library of Congress Music Division.
In 1967, Montealegre appeared in the role of Birdie in a Broadway revival of Lillian Hellman's The Little Foxes, directed by Mike Nichols. She made her Metropolitan Opera debut in 1973 as Andromache (a principal, nonspeaking, non-singing role) in Berlioz's Les Troyens. One of her final televised performances was in the CBS Camera Three 1977 production of William Walton's Façade. Her final role on Broadway in 1976 was in Pavel Kohout's Poor Murderer, directed by Herbert Berghof, her first drama teacher in New York three decades earlier.
Montealegre spent her life concerned with the well-being of others, and worked on issues of social justice throughout the world. Among her achievements as a social activist, Montealegre chaired the American Civil Liberties Union's Women's Division; was an early supporter of "Another Mother for Peace," an antiwar organization, in 1967; hosted a controversial fundraiser to support the families of the "Black Panther 21" in January 1970; and was arrested at an antiwar protest in Washington, DC in 1972. During Senator Eugene McCarthy's 1968 presidential campaign, she campaigned across the country with Rose Styron and Phyllis Newman, handing out leaflets at shopping centers. Montealegre also worked for Amnesty International, including behind-the-scenes efforts in her native Chile during its political turmoil in the 1970s.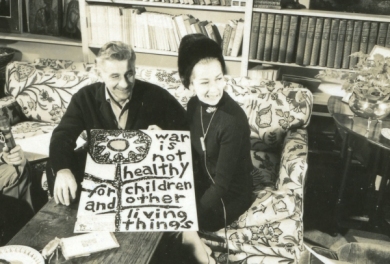 Felicia Bernstein hosted the press announcement for the new anti-Vietnam War group, Another Mother for Peace, at the Bernstein's Park Avenue apartment, 1967. New York Times Pictures/Redux Photos. Courtesy of the New York Philharmonic Archives.
Montealegre's celebrated graciousness and charm were a keen asset to her husband in his career, most notably on his international tours with the New York Philharmonic. Bernstein and his wife made a particularly positive impact during the Philharmonic's historic 1958 tour of twenty-one Latin American cities on both coasts of that continent, under the auspices of the President's Special International Program for Cultural Presentations administered by the American National Theater and Academy.
Montealegre began painting in the 1960s, at first under the guidance of painter Daniel Schwartz, whom she met once a week for three hours to study figure and portrait painting in the classical tradition. Schwartz said: "Felicia was very self-deprecating and modest about her work, but very smart. She took instructions well and began to show a talent, a sensitivity, a softness." Montealegre subsequently studied with celebrated painter Jane Wilson, who remarked that Felicia "worked hard, yet had a playful quality in her work."
Montealegre's kindness, warmth, and wit were infectious. Over the course of her life, she maintained a circle of close friendships, many of them with well-known figures including Marc Blitzstein, Martha Gellhorn, Glenn Gould, Lillian Hellman, Mike Nichols, Stephen Sondheim, Jennie Tourel, Richard Avedon, and many others. She frequently celebrated their careers and championed their social causes, giving generously of both her money and her time.
Although Montealegre set aside her piano studies upon arriving in New York, she remained close to her teacher, Claudio Arrau, who introduced her to Leonard Bernstein at a party in 1946. The couple became engaged soon after, but the engagement was broken by December of 1947. Between 1948 and 1951, Montealegre was in an intimate relationship with actor Richard Hart, with whom she had performed in several plays. Hart died on January 2, 1951, in Montealegre's arms. Montealegre had remained friends with the Bernstein family during her separation from Leonard, and soon after Hart's death, her relationship with Leonard resumed. Olga Koussevitzky (wife of conductor Serge Koussevitzky) announced the couple's engagement on August 12, 1951. Less than four weeks later, on September 9, 1951, the couple was married at Temple Mishkan Tefilah in Boston, with cantor H. H. Rubenovitz and Rabbi Israel Kazis officiating. In a placatory gesture to her in-laws, Montealegre converted to Judaism prior to the wedding. Over the course of the marriage, husband and wife were relatively informal about their religious expression, embracing elements of both Judaism and Christianity. Shortly before her death from cancer in 1978, Montealegre returned to the Catholic church of her youth. She is buried alongside her husband at Green-Wood Cemetery in Brooklyn, NY.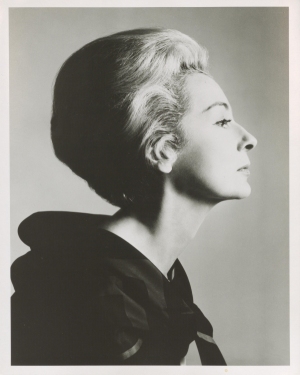 Portrait of Felicia Montealegre. Courtesy of the Library of Congress Music Division.
After Montealegre's death, several scholarships and fellowships were established in her memory. Scholarship funds at Columbia University, The Juilliard School, and New York University (NYU), benefit students studying acting, playwriting, directing, and producing. At the Tanglewood Music Festival, the Felicia Montealegre Bernstein Fellowship was established in the 1980s as an annual sustaining fellowship for pianists; and HB Studio in New York annually hosts the Felicia Montealegre Master Class for acting students. In the early 1980s, Leonard established the Felicia Montealegre Bernstein Fund of Amnesty International USA, the first of its kind, in honor of his late wife. The fund has allowed the couple's joint mission to protect human rights to endure past their lifetimes.
© The Leonard Bernstein Office, Inc.
Felicia Montealegre Bernstein - Full portrait in formal gown, October 1956.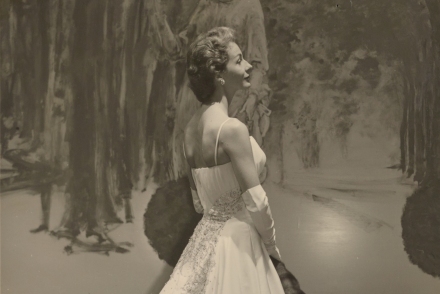 Photographer unknown. Courtesy of the Library of Congress Music Division.
Charleton Heston and Felicia Montealegre in "Of Human Bondage", 1949.
Photo by William Leftwich.. Courtesy of the Library of Congress Music Division.