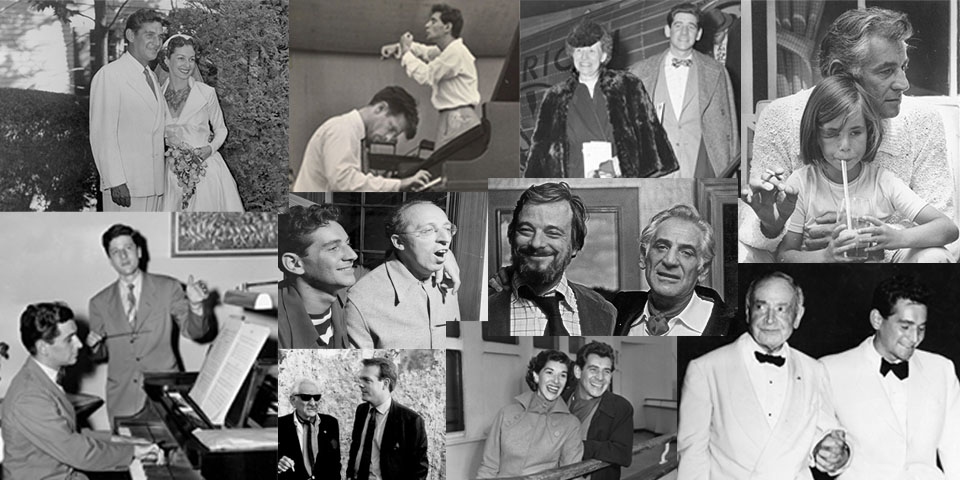 Program Note
by Garth Edwin Sunderland
Leonard Bernstein's Anniversaries are collections of short solo piano works that he wrote as gifts, or occasionally memorials, for people close to him. Written over the course of more than 40 years, they reveal the tremendous breadth of his voice as a composer, and the evolution of that voice over the course of his life.
Despite 18 years spent working with Leonard Bernstein's music, I had somehow never heard the Anniversaries performed together. But at a private concert in 2016, I encountered them in their entirety, and was transfixed by the way these works distilled the essence of Bernstein's music into 10 fingers and 88 keys. All the drama, wit, excitement, and expression of Bernstein's music was there, and I immediately heard possibilities to expand these small pieces into an orchestral tapestry. There is certainly a precedent - Bernstein himself was a consummate recycler, and a number of the Anniversaries made their way into his orchestral works; the 5 Anniversaries collection, for example, was effectively the sketch for his violin concerto Serenade.
In making selections for this new orchestral suite, I focused on the Anniversaries with the greatest potential to be scaled-up - those with the longest, most singing lines; the punchiest approach to color; the most interesting interplay of counterpoint. For the most part I avoided the Anniversaries that Bernstein had already reworked himself. In the end, this led to a selection of 11 Anniversaries for Orchestra comprising about 15 minutes of music. Creating the suite was a tremendously fun and rewarding experience. It isn't often that one gets an opportunity to "collaborate" with one of America's greatest artists, and I hope that this suite has done Bernstein proud.
I. For Helen Coates One of the longest relationships of Bernstein's life, she was the first the 14-year-old Lenny's piano teacher, then later his personal secretary, remaining in that position until her death in 1989.
II. For Paul Bowles A close friend, Bowles began his career as a composer (championed by Bernstein, of course, and went on to become the celebrated "beat generation" novelist of The Sheltering Sky.
III. In Memoriam: William Kapell Like Bernstein, the pianist Kapell was one of the most celebrated young American artists of his day. Unfortunately, Kapell died tragically young in a plane crash in 1953, at the age of 31.
IV. For Craig Urquhart Bernstein's personal assistant in his later years, Urquhart supported Lenny faithfully through his last tours and performances, and through to the end of his life.
V. In Memoriam: Alfred Eisner Bernstein's Harvard roommate, Eisner died at the age of 23 from a brain tumor. This haunting music reflects on of Bernstein's first experiences of loss.
VI. For William Schuman Schuman is in the pantheon of great American composers, and was frequently programmed by Bernstein the conductor. They were also great friends. Schuman later returned the favor with a gift to Bernstein on his 70th birthday, with orchestral variations on themes from Bernstein's theater scores.
VII. For Stephen Sondheim Among his innumerable accomplishments, the great Stephen Sondheim is the lyricist of West Side Story. He shares with Bernstein an incomparable love of language, and a delight in word games. This tune later became a central theme of Bernstein's opera A Quiet Place.
VIII. For my Daughter, Nina By far the darkest of the Anniversaries, this sinister blues acts as a reminder that the Anniversaries were gifts, not portraits (Nina does not, as the music might suggest, live in a Raymond Chandler novel). I have maintained much of the original piano writing within an expanded orchestral context, turning this Anniversary into a mini-concerto.
IX. For Leo Smit Smit was a composer and pianist, and a champion of American music. An arranger as well, he created the orchestral reduction of Bernstein's Symphony #2: Age of Anxiety.
X. For Felicia Montealegre Bernstein wrote this very first of the Anniversaries as a gift for the woman who, three years later, would become his wife. It is a reflection of the grace, beauty, and quiet strength of the woman who knew him best.
XI. In Memoriam: Ellen Goetz One of Bernstein's final works, this last of the Anniversaries was composed for a woman who was a passionate fan of Bernstein and his music-making, often appearing backstage at concerts and events. At the end, the orchestra gradually thins out until we are left with just the original solo piano, Bernstein's instrument - as if he is waving all of us goodbye.
© The Leonard Bernstein Office
Related Works
Anniversaries for Piano
Divertimento

Details
(2018) 15 min
World Premiere:
April 13, 2018. Kauffman Center for the Performing Arts, Kansas City, MO | Kansas City Symphony / Michael Stern, conductor
Scoring
2(1,2=picc).2(2=corA).2(1=EbCl,2=bcl).2(2=contra) - 2.2.2(2=btbn).0 - timp - perc(2) - piano - strings
---
Purchasing Licensing Information
To perform Anniversaries for orchestra, please contact Boosey & Hawkes. For general licensing inquiries, click here.