Latest News
75 Years Ago: Leonard Bernstein's International Conducting Debut!
Posted March 6, 2019
In early 1944, Bernstein was heavily immersed in his first collaboration with choreographer Jerome Robbins as he rushed to complete the score for Fancy Free, while also making time to appear as guest conductor of Les Concerts Symphoniques de Montréal (now the Orchestre symphonique de Montréal). In a letter to Robbins, Bernstein wrote, "I can't wait to finish it [Fancy Free]. I plan to begin orchestrating in Montreal."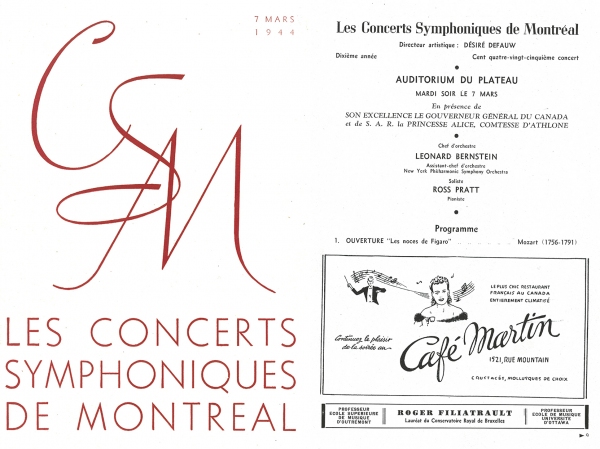 The March 7th concert in Montreal featured Beethoven's Symphony No. 8, Sibelius's Symphony No. 1, and Ravel's Piano Concerto in G Major with soloist Ross Platt. This appearance marked the beginning of a year of guest appearances with several orchestras across North America, including the Chicago, Cincinnati, Rochester, St. Louis, Vancouver, San Francisco and Minneapolis symphonies.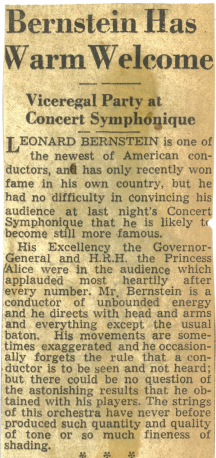 Receiving a warm welcome, the young (26-year old) Bernstein was described as a versatile and popular rising conductor, and the performance was given a rave review in the Montreal Star: "The strings of this orchestra have never before produced such quantity and quality of tone or so much fineness of shading.
Bernstein soon returned in the summer of 1944 to conduct an outdoor concert on the promenade at the Chalet on Mount Royal with Les Concerts Symphoniques de Montréal. This time the orchestra performed Sibelius's Symphony No. 2 along with Tchaikovsky's Romeo and Juliet and Gershwin's Porgy and Bess Suite.
In 1945 and 1946 he spent more time in Canada as guest conductor for two seasons with the Vancouver Symphony Orchestra. Now 75 years since Bernstein's first visit, the Orchestre symphonique de Montréal celebrates the Leonard Bernstein centennial with their newly released album. Recorded live in May 2017 with conductor Kent Nagano the album features Leonard Bernstein's A Quiet Place.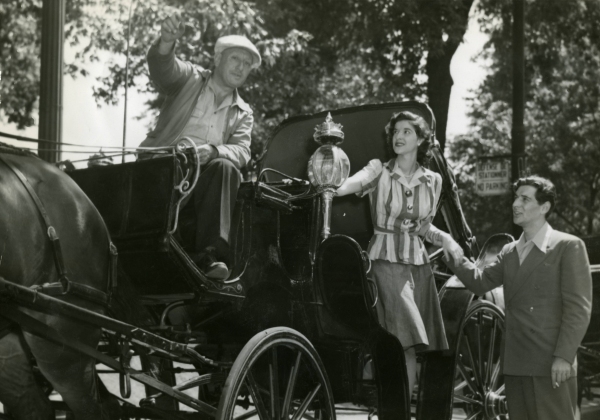 [Photos courtesy of OSM Archive: Cover and page from original March 7, 1944 program; Review from The Montreal Star, March 8, 29144; Leonard Bernstein and his sister Shirley in Montreal, Summer 1944]