Latest News
Marie Carter, VP for Licensing and Publishing, Retires
Posted June 22, 2022
Marie Carter, VP for Licensing and Publishing, Retires
From Alexander, Nina, and Jamie Bernstein
(with kind assistance from Hannah Webster)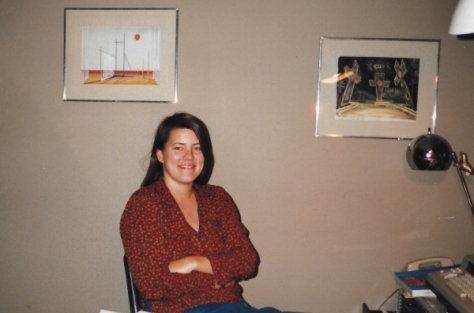 Marie Carter at the Leonard Bernstein Office, October 1987.
After an extraordinary tenure with The Leonard Bernstein Office, Marie Carter is retiring from her role as Vice President for Licensing and Publishing. For nearly 36 years, she has brilliantly navigated the terrain where Leonard Bernstein, rights, and licensing intersect. Alexander, Nina, and Jamie Bernstein, and the entire Leonard Bernstein Office, are overwhelmed with respect and emotion as we wish Marie every joy in her retirement.
Marie joined Amberson (as the Bernstein Office was then known) in 1986 as Administrative Assistant to Bernstein's then-manager, Harry Kraut. She moved up to Video Manager, then Manager of Licensing and Rights, and became Vice President for Licensing and Royalties in 1996 when the Leonard Bernstein Music Publishing Company was formed. She has maintained her current title since 2002.
Over her years of service, Marie has dealt with every aspect of licensing Leonard Bernstein's intellectual property: first-class licensing; grand and small rights licensing; audio and audiovisual documentaries and video excerpting; synchronization, mechanical, and master use licenses; arrangement requests; print and rental; book permissions and research assistance; copyright and rights termination...the list goes on. If the job sounds intensely challenging, you are getting a glimmer of the idea.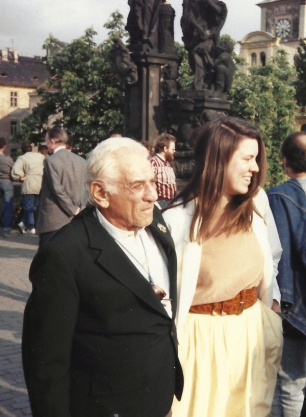 Leonard Bernstein and Marie Carter in Prague, June 1990.
Marie Carter's knowledge of the Bernstein video catalogue is comprehensive and vast. As Video Manager in the early 1990s, she facilitated the home video release of Bernstein's iconic Young People's Concerts with the New York Philharmonic. The project was decades in the making; now the YPCs have a vibrant second life for subsequent generations of families and students, thanks to Marie's hard work.
Marie has also served as the Bernstein Office's institutional memory, maintaining a detailed knowledge about Leonard Bernstein and the inner workings of the company for over three decades. She has mentored a host of assistants over the course of her tenure as well. Her aptitude for storytelling, combined with her signature dry wit, has delighted her colleagues regularly.
One of Marie's favorite aspects of her job has been conducting research about Leonard Bernstein, and assisting many others with their projects as well. While she is very familiar with the subject matter, she is always eager to help researchers uncover new bits of Bernstein knowledge. We're grateful to Marie for her devotion to this important legacy work.
Hannah Webster, who has worked alongside Marie for the past six years, said: "I first met Marie in the summer of 2016 when I interviewed to be her Licensing Associate, and we talked for an hour and a half that first day! She's been teaching me the ins and outs of licensing ever since, interspersed with anecdotes about language, lute techniques, math and science, and more. I am fortunate to have been her protégé, and will miss working with her very much." Ms. Webster will now assume the position of Head of Licensing.
Marie's academic studies focused on classical guitar and musicology, with degrees from the Mannes School of Music, the University of Southwestern Louisiana (now the University of Louisiana at Lafayette), and the Eastman School of Music. A perpetual learner, she also took up the lute and joined Continuo Collective, where she plays early music under the direction of Grant Herreid.
In addition to her aforementioned interests, she is devoted to her family, and is a passionate kayaker around New York State. We smile to think of all the time Marie will have now for her many favorite pursuits. Onward, Marie – and profound thanks to you, from all of us, for your mighty years with the Bernstein gang!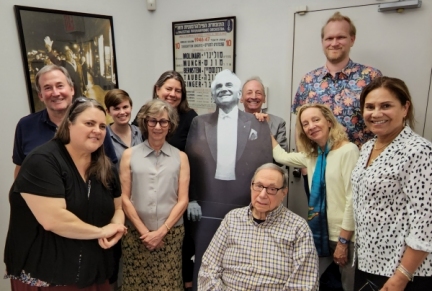 The Leonard Bernstein Office celebrates Marie's retirement, June 2022.