Latest News
Available On Demand: Leonard Bernstein's "Music for String Quartet" on WCRB
Posted May 24, 2022
Leonard Bernstein's "Music for String Quartet" had its premiere performance on November 6, 2021, at Tanglewood's Linde Center, at a gala concert benefit for The Stockbridge Library, Museum & Archives. The recording of this performance, performed by violinists Lucia Lin and Natalie Rose Kress, violist Daniel Kim, and cellist Ronald Feldman, was recently broadcast on Boston's WCRB Classical radio and is now available on demand. LISTEN NOW
The Story of Leonard Bernstein's "Music for String Quartet"
By Lisa Benson Pickett and Peter W. Benson
(as printed in the November 6, 2021 program for the work's premiere)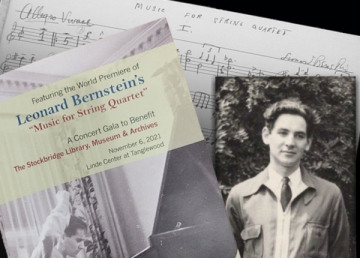 In 1936, while a student at Harvard University, Leonard Bernstein composed his "Music for String Quartet." Around that time he was introduced to our father, Stanley Benson, and the other players in the New England String Quartet who were looking for a fine pianist to play quintets with them in a series of concerts. Bernstein was invited to be their guest pianist, and programs for at least three concerts during the summer of 1938 say the quartet was "assisted by Leonard Bernstein." Two of the four musicians, our father and Karl Zeise, went on to become members of the Boston Symphony Orchestra.
At some point, Bernstein asked the quartet to play through his string quartet composition at a rehearsal and then wanted to know what they thought of the piece - they said they liked it. After the rehearsal, Bernstein asked Stanley if he would like to keep the music, which of course he said he would. The manuscript was handwritten, with each part signed by Bernstein.
Stanley later gave the music to our mother, Clara Stagliano Benson, also a violinist, who played it occasionally at home with her own quartet. Our parents and Bernstein remained friends throughout their lives, in Boston, New York, and Tanglewood.
Clara kept the manuscript in the family music cabinet for many years. One day while driving to Tanglewood, she told Lisa about the Bernstein String Quartet that she had saved all those years. This was an enormous surprise to Lisa. While talking about it, they began to realize what a hidden gem it was.
At a BSO retirement party at Blantyre one Sunday afternoon, Clara and Lisa told their friend, Boston Symphony Orchestra Music Librarian John Perkel, about the manuscript. He was very surprised to learn that a string quartet composed by Leonard Bernstein existed. After consulting with many music experts and dealers, Clara finally sold the manuscript in a confidential sale. We kept a copy of the music hoping that it would be played so music lovers everywhere could heart it. Now, thanks to the Bernstein family, tonight's audience at Tanglewood finally has that chance.
The Benson family music tradition continued, as Peter and Lisa both studied with members of the BSO and played in orchestras. Lisa became a music teacher, and Peter went into business.