Latest News
From the Archives: MASS Today
Posted August 23, 2021
MASS Today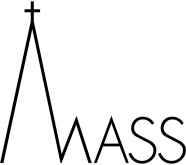 (As published in the Spring/Summer 2003 issue of Prelude, Fugue & Riffs)
In the past few years, Bernstein's theatre piece MASS has found a new relevance and a growing audience. Since January 2000, MASS has had nearly 100 performances worldwide in cities as various as Sydney, Australia; Valencia, Spain; and Kalamazoo, Michigan; and in venues as diverse as Carnegie Hall in New York City; the Cathedral in Rouen, France; and the Vatican in Rome.
This year has already seen performances in Bremen, Germany and at the Catholic University in Washington, DC. Yet to come are productions in Vilnius, Lithuania; Ljubljana, Slovenia; and Redefin, Germany.
On November 22nd, the 40th anniversary of the assassination of President Kennedy, the Dallas Symphony will perform MASS to commemorate the event. Also in November, the Deutsche Sinfonie Orchestra and Choir will perform the wok in Berlin.
Why does MASS remain relevant today? A letter to the New York Times (December 1, 2002) from Alison O'Connor in Manchester, Ct, answers the questions well: "...Bernstein's MASS is the best artistic reflection of the state of mind in which I find myself and perhaps other Americans find themselves, these days in the aftermath of September 11 and in the face of the so-called war on terrorism as we await the seemingly ineveitable war with Iraq - days that have called into question our faith in everything we hold dear."
At a performance of MASS in Carnegie Hall last November featuring the Collegiate Chorale and the Orchestra of St. Luke's, Jamie Bernstein concluded her pre-concert remarks with the following words: "MASS may seem at first to be locked in its era, but the issues it addresses have lost none of their immediacy. Catholicism is in fresh crisis in America, and the threat of a new war is bringing protesters back out into the street. Intolerance has not gone away, and the credibility of our government continues to fall far short of the mark. The one conflict that seems to have been resolved for the moment is Bernstein's central musical struggle: that of tonality vs. atonality. After nearly a full century of adherence to the 12-tone method, the academic doors have been thrown wide open to every kind of composing style. For that much, at least, Daddy would have smiled."