Latest News
Isata Kanneh-Mason receives 2021 Leonard Bernstein Award
Posted August 23, 2021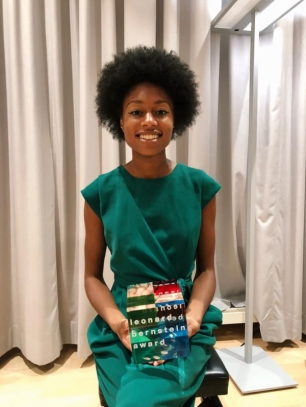 Isata Kanneh-Mason is this year's recipient of the Leonard Bernstein Award, sponsored by the Sparkassen-Finanzgruppe. "lsata Kanneh-Mason inspires us from the first note. Her expressive piano playing has a captivating effect and leaves no doubt that she will soon be one of the very great pianists. We are very pleased to present this year's Leonard Bernstein Award to this outstanding young artist," says Oliver Stolz, new President of the Savings Banks and Giro Association for Schleswig-Holstein.
Since 2002, the Sparkassen-Finanzgruppe has endowed the Leonard Bernstein Award, worth 10,000 euros, as part of the Schleswig-Holstein Music Festival. The internationally coveted prize for young musicians has been awarded to Lang, Martin Grubinger, Anna Vinnitskaya, Cameron Carpenter, Krzysztof Urbański and most recently Stathis Karapanos. The Savings Banks Finance Group, which includes the state's savings banks as well as LBS Bausparkasse Schleswig-Holstein-Hamburg AG, Provinzial Nord Brandkasse AG and the German Savings Banks and Giro Association, sends a clear signal in the area of talent development with this coveted award.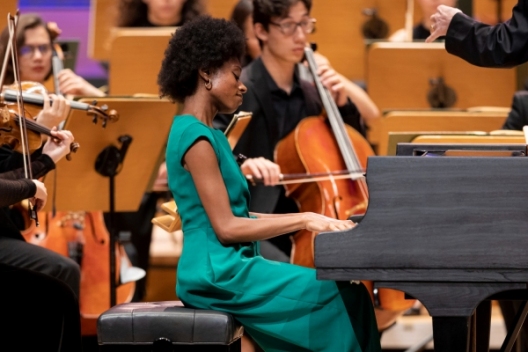 The Leonard Bernstein Award 2021 was presented during the prize-winners' concert on Friday, August 20, at the Musik- und Kongresshalle in Lubeck. Isata Kanneh-Mason performed Clara Schumann's Piano Concerto No. 1, accompanied by the Schleswig-Holstein Festival Orchestra conducted by Christoph Eschenbach.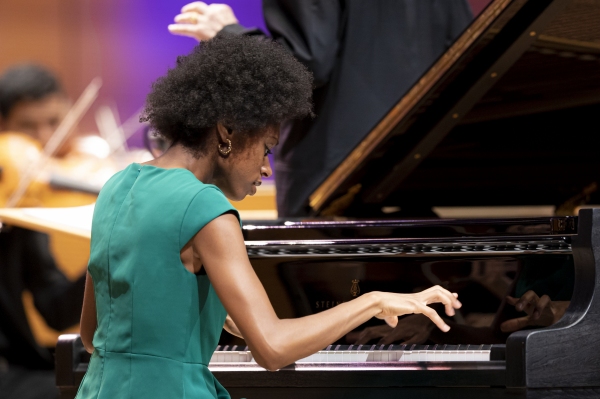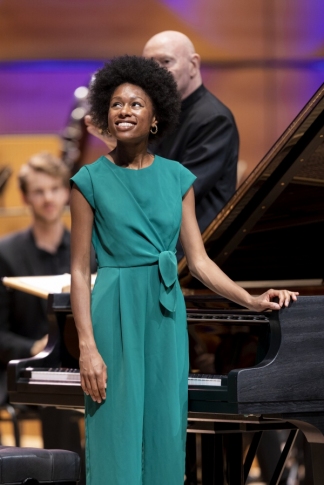 Photos by John Garve. Courtesy of the Schleswig-Holstein Musik Festival.
ABOUT ISATA KANNEH-MASON
Isata Kanneh-Mason grew up in Nottingham with six siblings. With support from the Elton John Scholarship Fund, she studied at London's Royal Academy of Music. In 2019, she released her debut album "Romance," featuring music by Clara Schumann; the following year, she was awarded the Opus Klassik for Best Emerging Artist of the Year in Piano. Her concert activities take her to the great houses of the world such as New York's Carnegie Hall, the Concertgebouw in Amsterdam or the Tonhalle Zurich.
For Isata Kanneh-Mason, music has always been an essential part of life. With her siblings, she made house music since childhood. Early YouTube videos show the children and teenagers interpreting Hungarian dances, among other things. A few years later, the siblings are considered the Jackson Five of classical music – though there are seven of them, not five – and all aspire to professional music careers. Isata herself is promoted by Elton John, and reached No. 1 in the UK Classical Charts with her debut album dedicated to the music of Clara Schumann. She reveres the composer as one of the few female influential artists of the 19th century, calling her "the Beyoncé of her time." Kanneh-Mason's own impact on the music industry expands again via the 2020 COVID-19 Lockdown: together with her siblings, she releases a series of livestreams, including a rendition of Beethoven's Piano Concerto No. 3 in a chamber music version, delighting over 1 million viewers.