Latest News
Longy honors Ellis Marsalis Jr. with 2021 Leonard Bernstein Award
Posted March 18, 2021
LONGY HONORS ELLIS MARSALIS, JR. WITH 2021 LEONARD BERNSTEIN AWARD
On Monday, March 15th, 2021, the Longy School of Music at Bard College held a virtual Bernstein Award reception.
Each year, Longy recognizes a performer or teacher who has dedicated their life to enriching the world with music. The award itself is in memory of Leonard Bernstein, who reached wide audiences with his music—as a composer, conductor, pianist and, perhaps most importantly, as an educator and humanitarian.
Marsalis was well-known for his talent as a jazz pianist, with more than 15 albums to his name when he passed away in April 2020. Yet he also had a singular career as a music educator and thought of himself first and foremost as a teacher. He was a musical mentor to four of his sons—Wynton, Branford, Delfeayo and Jason Marsalis—and taught prominent musical figures such as Terence Blanchard, Donald Harrison, and Harry Connick, Jr.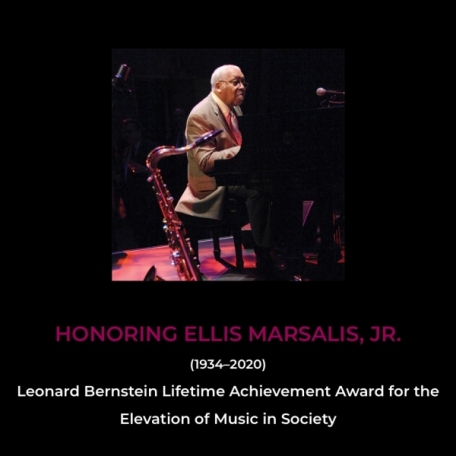 For over a century, Longy has continuously changed the mold of conservatory education and expanded the world's understanding of what a life in music can mean. Its innovative Catalyst Curriculum is customized to focus on the skills, knowledge, and experience students need to create a change in the world, and it prepares students to engage new audiences and teach anyone, anywhere. Students get hands-on, real-world experience while building their networks with Longy's extensive community of musicians and organizations. The Longy School of Music has a strong focus on inclusivity, welcoming students of all lived experiences and skills and giving them a stage on which to succeed. Whether they're passionate about music or social change, Longy helps turn their enthusiasm into action.