Latest News
Composition Competition Honors Leonard Bernstein
Posted January 21, 2021
**CALL FOR SCORES**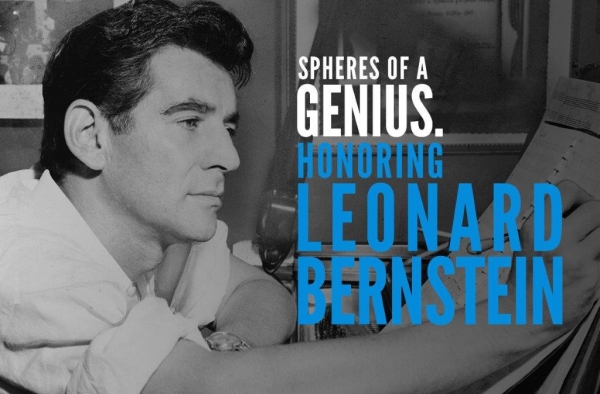 SPHERES OF A GENIUS 2020 – HONORING LEONARD BERNSTEIN
A jazz composition competition by JAM MUSIC LAB University (JMLU) in cooperation with the ORF Vienna Radio Symphony Orchestra (RSO).
The prize-winning work will be premiered on October 8th, 2021, in the Grand Hall of the Konzerthaus Vienna under the direction of chief conductor Marin Alsop. The concert will be recorded by ORF and broadcasted on the Ö1 program.
The RSO and JMLU's first collaboration in 2017-18, "Spheres of a Genius" composition competition celebrated the 100th brithday of jazz composer and pianist Thelonious Monk.
Idea and outline of the competition
As an artist, Bernstein built bridges in Vienna, and in great cities everywhere. His intelligence, charm, wit, and unimpeachable musical instincts brought people together – musicians and music lovers alike. He mediated between different musical worlds - borrowing freely from contemporary styles like jazz, blues and popular music - then shaped a "classical" sound that became his signature.
Because of his Jewish background, Bernstein held ambivalent views towards Vienna. He forged positive experiences with artists and orchestras, ever mindful of the city's history with National Socialism.
The task of the composition competition relates to the role of Leonard Bernstein as a composer. The winning piece shall succeed in transferring the impulses given by Bernstein towards composed music beyond stylistic barriers into a demanding musical language of the 21st century and shall especially consider the ways in which Bernstein discussed jazz in the concert hall and included jazz elements in his own works.
The aim of the contest
The composition competition relates to the role of Leonard Bernstein as a composer. Competitors should aim to create music that reflects the spirit of Leonard Bernstein, his innovation, originality and expressiveness. Special consideration should be given Bernstein's views on reaching across stylistic borders, expanding the language through the use of jazz elements.
The call directs composers to create work that is original, and not quoting from Bernstein. The winning composition must bare evidence of inspiration, rather than imitation."
The deadline for submission of is March 20, 2021
Prizes
1st prize: The winning composition will be premiered by the ORF Vienna Radio Symphony Orchestra and Jazz Soloists in the Golden Hall of the Vienna Musikverein on October 8th, 2021 and broadcasted as part of the Ö1 radio program. The prize money is 5,000 EUR.
2nd prize: 3,000 EUR.
3rd prize: 2,000 EUR.