Latest News
New Album: "Bernstein Reimagined" out now!
Posted January 7, 2021
The Smithsonian Jazz Masterworks Orchestra explores the vast, diverse repertoire of Leonard Bernstein on stunning, revelatory new album.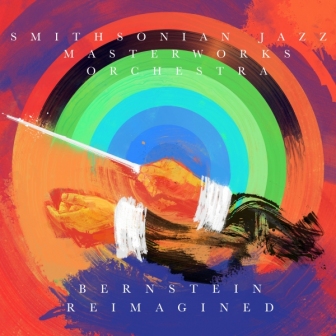 Bernstein Reimagined, due out January 29, 2021, via MCG Jazz, explores lesser-known Bernstein pieces through the transformative lens of five gifted jazz arrangers.
Leonard Bernstein once called jazz "the ultimate common denominator of the American music style." The music made a profound impact on Bernstein's work, not only in the more explicit "jazziness" of his work in musical theater, but throughout his orchestral, spiritual, opera, and film music as well. Jazz artists in turn felt the influence of Bernstein's innovations, with interpretations of his work recorded by such icons as Bill Evans, Dave Brubeck, Oscar Peterson, Wes Montgomery, Wayne Shorter, and countless others.
With the stunning new album Bernstein Reimagined, the Smithsonian Jazz Masterworks Orchestra mines the composer's vast repertoire for a vibrantly diverse new set of music that delves into pieces rarely, if ever, performed in a jazz context. Due out January 29, 2021, via MCG Jazz, this dazzling music was originally commissioned as part of the worldwide celebration of Bernstein's centennial year in 2018.
"After a series of discussions with directors of artistic programs in Washington, D.C., on the topic of ways in which to honor Bernstein's centennial citywide, I imagined the Smithsonian Jazz Masterworks Orchestra presenting a grand concert of Bernstein's music," explains SJMO Artistic Director and conductor Charlie Young. "Re-imagining Leonard Bernstein for this occasion required examining some of his compositions rarely associated with jazz. The resulting concert was a blast!"
The ablum features none of the usual suspects - the oft-explored West Side Story songs or those that have become jazz standards. Instead, the project's five inventive arrangers - Jay Ashby, Darryl Brenzel, Scott Silbert, Mike Tomaro, and Steve Williams - find inspiration in the lesser-known corners of Bernstei's output: the symphonic works, spiritual music, operas, lesser-known musical theater pieces, and even his sole film score, for the classic On the Waterfront. The results are, as the title promises, surprising acts of re-imagination as revelatory to Bernstein aficionados as they will be to newcomers unfamiliar with the original compositions.
"Bernstein led at least six different lives as an artist," says Flavio Chamis, a Brazilian-born, Pittsburgh-based composer and conductor, who was a personal friend and frequent assistant conductor for Bernstein during the last several years of the composer's life.
"He was a conductor, a composer, a pianist, an educator and TV personality, a writer and a political figure. Even if you think of him solely as a composer, that spans symphonic music, Broadway musicals, opera, synagogue music, chamber music, solo piano, and so on. He's impossible to define, but so is jazz; both are incredibly vast, so it makes sense to combine them to form a new vision." Chamis helped bring the arrangers' attention to some of this less-explored pieces, hoping to shed light on Bernstein's staggering diversity, especially for jazz audiences.

The album opens with the first of three pieces taken from the young Bernstein's first Broadway show, On the Town. Scott Silbert's arrangement of "Times Square" brings that Manhattan landmark back in its pre-Disneyfied glory with an Ellingtonian vigor that embraces the tunes' rapid-fire shifts in tempo and dynamics.
The same show also yields the brassy "The Great Lover," rendered with sharp, percussive bravado in Mike Tomaro's bracing arrangement; and the swooning melancholy of Darryl Brenzel's impressionistic take on "Lonely Town Pas de Deux," which swathes the original's romantic wistfulness in lush horns evocative of Maria Schneider's mesmerizing charts.
Jay Ashby's arrangement of "Dream with Me" revives a Bernstein piece cut from the original 1950 Broadway production of the play Peter Pan. Ashby transfers the song's heartrendering vocal melodies to a fluid alto sax nested in fluttering flutes and clarinets, making for a lovely, dream-like atmosphere. Another vocal piece reinterpreted for horns is Silbert's jaunty "Morning Sun," originally penned for the 1952 opera Trouble in Tahiti and later recycled in its 1983 sequel, A Quiet Place. The latter is also the source for the "Postlude" that Mike Tomaro gives an exhilarating, tension-filled treatment that gives way to a hushed, tender ballad section underlying the soprano sax and piano solos.
One of the album's most unexpected twists comes via one of its most obscure pieces. Taken from Divertimento for Orchestra, Bernstein's contribution to the Boston Symphony Orchestra's centennial celebration, "Waltz" escapes the Beantown winter for a Caribbean breeze, buoyed by a reggae groove and enlivened by the virtuoso steel pan playing of special guest Victor Provost. The entrancing guitar of MCG Jazz Executive Producer Marty Ashby takes the lead on Williams' transformative arrangement of "Meditation #1" from Bernstein's MASS, turning a somber prayer into an act of urgent exaltation.
"Everybody had to be on their A-games to play this music," recalls Ashby. "It was very challenging music to pull together and the fact that we were looking through the lens of five different arrangers gave it an especially wide palette. But the music really resonated with the band, and it was a lot of fun to play."
Brenzel's arrangement of "Chichester Psalms I," commissioned by the Cathedral of Chichester in Sussex, England, in 1965, finds the warm, joyful side of the original's choral spirituality, making the elusive 7/4 rhythms seem effortless and embracing. The album ends with Silbert's interpretation of a suite of themes from Elia Kazan's On the Waterfront (famously starring Marlon Brando), which manages to be captivating and cinematic without the need for a single image.
"Well, maybe that's really the difference between us," Leonard Bernstein once told the iconic jazz bandleader and composer Duke Ellington. "You wrote symphonic jazz, and I wrote jazz symphonies."
Chamis recalled those words as he summed up the strength of Bernstein Reimagined. "This project falls directly between the two and becomes a third thing all its own, that sheds light on both. It's very compelling music that reflects the broadness of Bernstein's work, which is so open to many different ways of seeing."
Order Bernstein Remagined at www.mcgjazz.org