Latest News
Isaac Stern at 100: Lenny & Isaac
Posted July 7, 2020
by Gino Francesconi
Printed in the Summer 2020 issue of Prelude, Fugue & Riffs
A concert at Carnegie Hall on September 27, 1960, was the first event after the Hall had been saved from demolition and purchased by the City of New York in June. Taking part in that evening's concert was the New York Philharmonic, conducted by Leonard Bernstein. The soloist was Isaac Stern, the very person who had convinced the City of New York to purchase Carnegie Hall for its historical significance. This was a time when old buildings weren't saved, but came down to make room for new ones going up. Lincoln Center was going up; Carnegie Hall was slated to come down. Isaac Stern saw it a little differently: Carnegie Hall could become a music academy that would train future musicians who would one day appear at Lincoln Center.
After intermission, as Isaac stepped through the stage right door to perform the Beethoven Violin Concerto, the audience rose and cheered. He recalled he was so emotionally overcome that he broke a string on his violin during the first movement. The concertmaster, John Corigliano, quickly gave his violin to Isaac while he changed the broken string, and then switched them back flawlessly. At the end of the performance the audience erupted into roars and applause. Isaac later recalled: "Lenny leaned over to me and said into my ear, 'Isn't it wonderful to be young and famous!'"
It was a remarkable moment out of many moments the two musicians shared over their 43-year association. They were two of the most extraordinary musicians of their day, but also so much more: social activists, educators, mentors, cultural ambassadors, and fathers.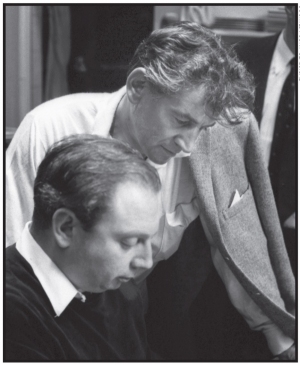 Isaac Stern was born on July 21, 1920, in Kremenetz, in what was Poland and is now Ukraine. Leonard Bernstein's parents were born about 50 miles away, in the 1890s, in what was Russia and is also today Ukraine. Isaac was ten months old when his family immigrated to the west coast of the US. Sam Bernstein was seventeen, and Jennie Resnick twelve, when they respectively immigrated to the east coast, where Leonard was born, in Lawrence MA, in 1918.
Isaac was not a child prodigy. He didn't touch a violin until he was 8, and that's only because his friend across the street was playing a violin. Lenny didn't touch a piano until he was ten, when Aunt Clara gave the family her piano. Both boys made up for lost time and went beyond what anyone could foresee. Isaac made his recital debut at age ten, and performed everywhere he could to anyone who would listen. He found a mentor in conductor Pierre Monteux with whom he made his debut with the San Francisco Symphony at seventeen.
Members of Sam Bernstein 's family in Russia had been rabbis, and he wanted no less for his son than the best education possible: Boston Latin School and then Harvard. Music yes, musician, no! Yet young Lenny organized children 's musicals, played the piano, taught the piano, composed, absorbed as much music as he could, and performed everywhere and to anyone who would lis - ten. Like Isaac, he found a mentor in a conductor: Serge Koussevitzky.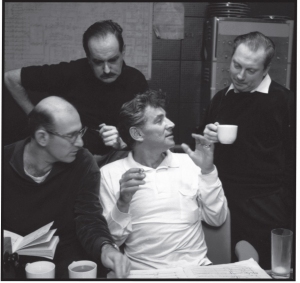 Isaac 's New York debut at Town Hall, in 1939, was a disappointment. As Isaac said, " The critics told me: not bad, but go home and practice. " He spent hours riding a double-decker bus up and down Central Park West deciding his future. "Do I take that orchestra job in the Midwest or do I go home and work like crazy towards another try at New York? ' He went home to San Francisco and practiced and performed non-stop. Meanwhile, Lenny was also working his way to New York.
Both made their Carnegie Hall debuts in 1943. Isaac 's, on January 8th, met with rave reviews. Lenny 's last-minute takeover for indisposed conductor Bruno Walter, on November 14th, made the front page of the New York Times. For Isaac, Carnegie Hall was "my musical bar mitzvah. " For Lenny, Carnegie Hall made him known around the world.
They first performed together in Rochester, New York in 1947, and shortly thereafter, in Palestine, soon to become Israel. Both fell in love with the spirit of the young country. Both gave generously of their time, Isaac performing all over and Lenny leading the Palestine Orchestra and becoming Music Advisor to its subsequent incarnation, the Israel Philharmonic. He invited them to tour the US, in 1951, and before they set off on their 55-concert 40-city tour, the orchestra attended a gala at the Waldorf Astoria, followed by a performance with Leonard Bernstein and Isaac Stern.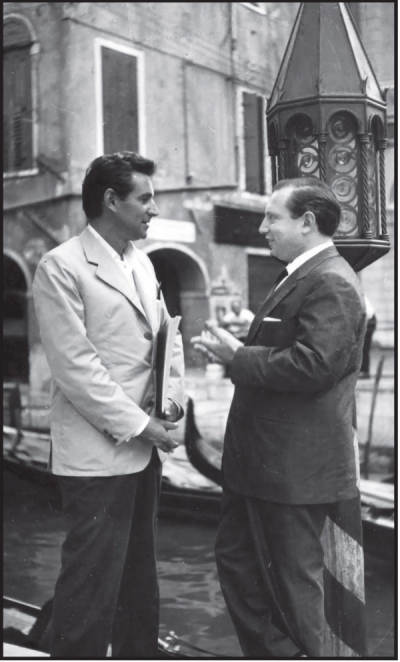 It was Isaac for whom Lenny composed his Serenade, after Plato 's Symposium. They performed the premiere in Venice, Italy. A few nights before the premiere Isaac recalled they went to dinner and talked into the night: "…two friends opening their hearts talking about music, about family, our intimate dreams…that was one of the very special moments of my life."
The day of the performance Lenny wrote a note: "Isaac, my Isaac: Whatever happens tonight, fair or foul or flop, I want you to know how much I will always cherish your work on our Serenade. Nobody can play like you, and nobody can play the piece as you can. I have an eternal debt to you, and besides, I love you anyway. Thank you with all my heart. Lenny 12 Sept. 1954."
They would perform many times together for pension funds, for endowment campaigns, for benefits to raise money for causes such as the Student Nonviolent Coordinating Committee, and sometimes just for fun. Their talks led to what would become the National Endowment for the Arts. They would make more than a dozen recordings together, winning a Grammy Award for the Samuel Barber Violin Concerto, which the composer said was the most beautiful performance of it he ever heard.
Little did Isaac Stern know, while riding that double decker bus up and down Central Park West in 1939, that both he and Leonard Bernstein would eventually live on that same street, nine blocks from each other.
Lenny died, in 1990, at the age of 72. His friend Isaac died on September 20, 2001, at the age of 81. Both had memorials at Carnegie Hall.
Gino Francesconi has been associated with Carnegie Hall for 46 years. In 1986, he established Carnegie Hall 's first archives and the Rose Museum, in 1991.
Photos (top to bottom): Leonard Bernstein and Isaac Stern recording Serenade with the Symphony of the Air, 1956; Leonard Bernstein and Isaac Stern at the premiere of Serenade in Venice; Courtesy of Sony Classical; Courtesy of the Library of Congress Music Division.