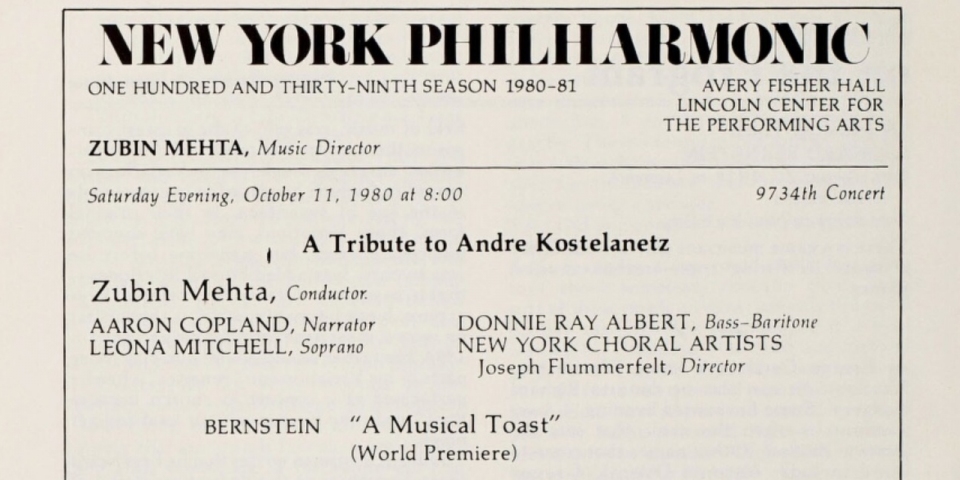 Overview
From the Boosey & Hawkes study score, 1980:
After attending the premiere of my sacred service Love Songs for Sabbath, André Kostelanetz commissioned a work from me. It was his hope that this new piece would repeat the success he had had with Lincoln Portrait, the commission he had given Copland. This time, however, instead of continuity being provided by a narrator, the idea was to use the actual voices of famous statesmen, in this case, mostly the voices of FDR and JFK. Articles of Faith, the resulting work, was premiered by the Detroit Symphony led by Sixten Ehrling. It was not well received and Kostelanetz abandoned it.
There is a game musicians play in which they compete in fitting triple-trochaic musical names to George Gershwin's "Fascinating Rhythm." (It can also be done to Richard Rodgers' "Some Enchanted Evening.")
"André Kostelanetz" is often the name that sets the game in motion. (Other names that come to mind include Antonín Dvořák, Gregor Piatigorsky, Zino Francescatti, Tossy Spivakovsky, Michael Tilson Thomas, "Slava" Rostropovich, Igor F. Stravinsky, and so on.)
It is this gameful spirit that infuses Leonard Bernstein's tribute to Maestro Kostelanetz, A Musical Toast. It may seem strange to write a memorial tribute in a "party" vein, rather than an elegiac one; but the composer is simply complying with the wish of Kostelanetz who, in his Last Will and Testament, left these instructions:
If there is contemplated a gather of my family, friends and associates in New York City, or elsewhere, I direct that such a gathering shall be a cheerful get-together.
Thus, a toast is in order, an orchestral toast by the composer in affectionate memory of his distinguished colleague and friend. After a short fanfare in 7/8, there emerges a figure comprising the aforesaid three trochees.
© by Jack Gottlieb, 1980
Related Works
Divertimento
Fanfare for the Inauguration of John F. Kennedy
Fanfare for the 25th Anniversary of the High School

Details
(1980) 2 min
World Premiere:
October 11, 1980. Avery Fisher Hall, New York, NY / New York Philharmonic / Zubin Mehta
Scoring
2.2picc.2.corA.2.Ebcl.bcl.2.dbn-4.3.3.1-timp.perc(5):4 snare dr (hi to low)/BD/cyms/susp.cym/tam-t/tamb/wdbl/tgl/glsp/xyl/ vib(optional substitute for guitar)/chimes-harp-pft-organ(optional)- elec.guitar(optional)-strings
---
Arrangements
A Musical Toast
for symphonic band (arr. Clare Grundman)
Purchasing Licensing Information
Purchase/Licensing Information:
To perform A Musical Toast, please contact Boosey & Hawkes. For general licensing inquiries, click here.
Media
Program from Premiere of A Musical Toast 11 Oct 1980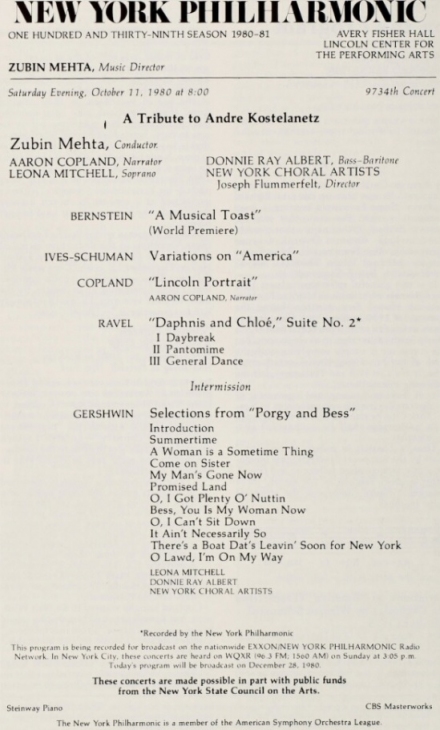 NY Philharmonic Digital Archives
Bernstein: A Musical Toast - Allegro Con Brio · Israel Philharmonic Orchestra · Leonard Bernstein

℗ 1982 Deutsche Grammophon GmbH, Berlin