Latest News
Oregon Jewish Museum and Center for Holocaust Education hosts GRAMMY Museum's Leonard Bernstein at 100 Exhibition
Posted October 3, 2019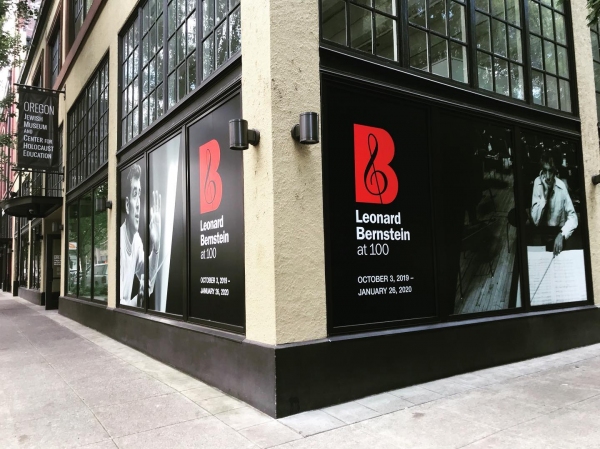 Drawing from more than 150 photographs, personal items, papers, scores, correspondence, costumes, furniture, and films, Leonard Bernstein at 100 marks the official exhibit of the centennial and is the most comprehensive retrospective of Bernstein's life and career ever staged in a museum setting.
Items on display include:
BERNSTEIN'S CONDUCTOR BATON
HIS FIRST CHILDHOOD PIANO
THE DESK USED TO COMPOSE WEST SIDE STORY
HANDWRITTEN SCORE SHEETS FOR SONGS FROM WEST SIDE STORY, INCLUDING "AMERICA," "TONIGHT," AND "MARIA"
AND MORE
In addition to the objects and the multi-media presentations, the exhibit includes a number of interactive displays, designed to allow the museum visitor deep access into Bernstein's creative mind and music legacy. A listening bar will enable visitors to explore some of Bernstein's most noted works; and a vocal booth gives visitors the chance to sing lead in "West Side Story". Another interactive breaks down the parts of a symphony for greater understanding of Bernstein's greatest orchestral works, while a specially designed interactive gives visitors the opportunity to step into Bernstein's conducting shoes and lead the New York Philharmonic. There are Bernstein home movies, GRAMMY performances, interviews with contemporaries and colleagues, clips of his most noted stage works, segments taken from Bernstein's famous Young People's Concerts, and performances with the New York Philharmonic.
Experience it now in Portland at The Oregon Jewish Museum and Center for Holocaust Education, through January 6, 2020!
Some associated events: "Story Swap, In Terms of Music," musicians talking about Bernstein, 7 p.m. Oct. 16; "45th Parallel Universe," Bernstein chamber music, 7 p.m. Oct. 22-23; Bravo Youth Orchestra concert, with appearance by daughter Jamie Bernstein, 2 p.m. Nov. 10; A Talk With Jamie Bernstein, about her memoir "Famous Father Girl," 7 p.m. Nov. 17.