Latest News
Celebrating the 75th Anniversary of the Premiere of Symphony No. 1: Jeremiah
Posted January 24, 2019
SEVENTY-FIVE YEARS AGO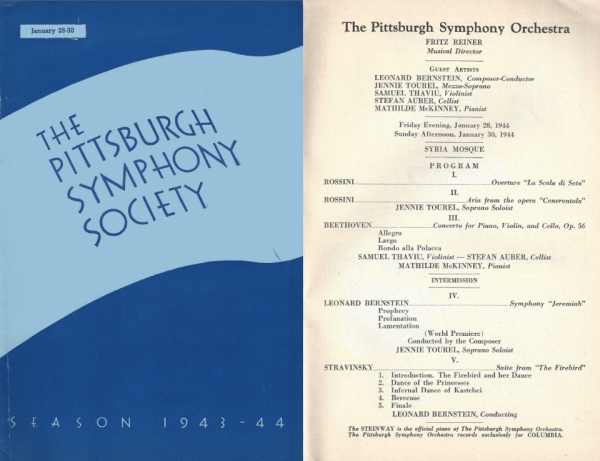 On January 28, 1944, Leonard Bernstein conducted the premiere of his Symphony No. 1: Jeremiah with the Pittsburgh Symphony Orchestra and mezzo-soprano Jennie Tourel as the soloist.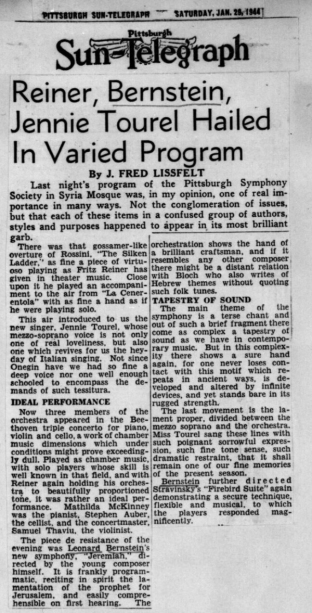 The performance was a complete success.
Three weeks later, Bernstein conducted it with the Boston Symphony Orchestra, and again, it was a triumph. In March and April he conducted it four times with the New York Philharmonic, and in May the New York Music Critics Circle voted it outstanding new classical work of the season. "Jeremiah" was broadcast on seventy radio stations across the country, and over the next few years Bernstein conducted it in Chicago, New York, St. Louis, Detroit, Rochester, Prague and Jerusalem.
During the Leonard Bernstein at 100 celebrations, 48 orchestras will have performed Symphony No. 1 over 80 times, showcasing 29 mezzo-sopranos. Performances will take place in 21 countries throughout Asia, Australia, Europe, and North and South America. The Pittsburgh Symphony Orchestra celebrated the centennial with performances of Jeremiah in October 2018 at Heinz Hall, conducted by Manfred Honeck with mezzo Jennifer Johnson Cano.
In addition to recording the symphony with mezzo Marie-Nicole Lemieux, the Accademia di Santa Cecilia Orchestra, led by Antonio Pappano, toured the piece to Latvia and London with mezzo Elizabeth DeShong.
The Berlin Philharmonic, following performances in Berlin and Frankfurt, performed the symphony on their Asia tour with stops in China and Taiwan, under the baton of Gustavo Dudamel with mezzo Tamara Mumford. Zubin Mehta conducted the Vienna Philharmonic Orchestra in performances of the work with mezzo Elisabeth Kulman on a tour through Switzerland, Finland, Denmark and Sweden.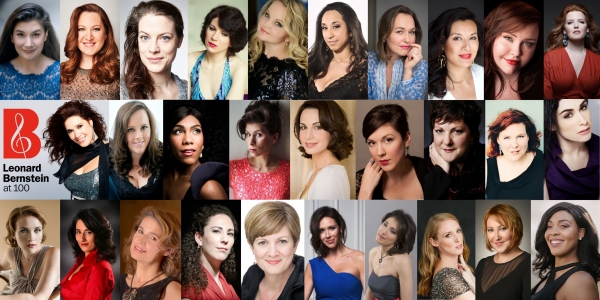 Mezzo-sopranos performing Jeremiah during the centennial. L-R:
Top: Annie Rosen, Clara Osowski, Claude Eichenberger, Elisabeth Kulman, Elizabeth DeShong, Guadalupe Barrientos, Jenny Carlstedt, Huiling Zhu, Jamie Barton, Jennifer Johnson Cano.
Middle: Hadar Halevy, Jessica Gillingwater, J'Nai Bridges, Kate Symonds-Joy, Kelley O'Connor, Laura Beckel Thoreson, Linae Keegan, Marie-Nicole Lemieux, Rinat Shaham.
Bottom: Sasha Cooke, Shira Karmon, Sophi Koch, Stephanie Foley Davis, Susan Platts, Tamara Mumford, Tatia Jibladze, Vera Savage, Zlata Khershberg, Zoie Reams.