Latest News
Available Now: Chita, A Memoir
Posted April 17, 2023
CHITA
A Memoir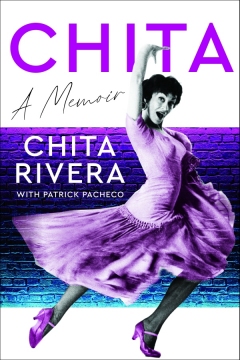 Available April 25, 2023
ORDER NOW
Broadway legend and national treasure Chita Rivera –multi-Tony Award winner, Kennedy Center honoree, and recipient of the Presidential Medal of Freedom – has taken no prisoners on stage or screen for seven decades. From her trailblazing performance as the original Anita in West Side Story—for which she tapped her own Puerto Rican roots—to her haunting 2015 star turn in The Visit. Chita has proven to be much more than just a captivating dancer, singer, and actress beloved by audiences and casts alike. In her equally captivating and one-of-a-kind memoir, CHITA (Harper One; April 25, 2023; $27.99), written with Patrick Pacheco, the woman born Dolores Conchita Figueroa del Rivero shares an incomparable life, both on stage and behind the curtain.
Chita's love of performing began as a child in Washington, D.C., when her mother enrolled her in a local ballet school to channel her boundless energy. Still a teenager, she moved to New York to attend the School of American Ballet after an audition for George Balanchine himself and winning a scholarship. But Broadway beckoned, and by twenty she was appearing in the choruses of Golden Age shows like Guys and Dolls and Can-Can. In the latter, she received special encouragement from its star Gwen Verdon, forging a personal and professional friendship that would help shape her career. The groundbreaking West Side Story brought her into the orbit of Leonard Bernstein, Jerome Robbins, Arthur Laurents, Hal Prince, and Stephen Sondheim. After Bye Bye Birdie further burnished her rising star, she reunited with Verdon and her then-husband Bob Fosse to work on the film version of Sweet Charity and the celebrated original Broadway production of Chicago.
As Chita takes fans behind-the-scenes of all her shows and cabaret acts, she shares candid stories of her many colleagues, friends, and lovers. She speaks with empathy and hindsight of her deep associations with complicated geniuses like Fosse and Robbins, as well as with the mega-talent Liza Minnelli, with whom she co-starred in The Rink. She openly discusses her affair with Sammy Davis, Jr. as well as her marriage to Tony Mordente and her subsequent off-the-radar relationships. Chita revisits the terrible car accident that threatened to end her career as a dancer forever. Center stage to Chita's story are John Kander and Fred Ebb, the songwriters and dear friends indelibly tied to her career through some of her most enduring work: Chicago, The Rink, Kiss of the Spider Woman, and The Visit.
As Chita Rivera looks at her extraordinary career, she brings another voice to the events—that of Dolores, the tough-minded alter ego who still lives and survives within Chita. Dolores's down-to-earth forthrightness and touch of irreverence shines through in all of her performances, revealing the hard work, determination, and luck that has gone into a lasting show business career.
CHITA, the memoir, is a perfect embodiment of the woman herself: fun-loving, sensuous, ferocious, compassionate, and filled with vitality.