Latest News
New Album: Yo-Yo Ma & John Williams "A Gathering of Friends"
Posted May 2, 2022
John Williams & Yo-Yo Ma
A GATHERING OF FRIENDS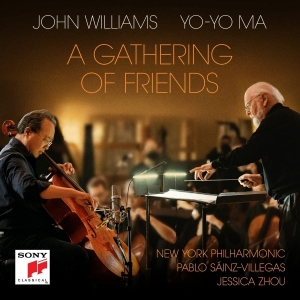 John Williams and Yo-Yo Ma renew their celebrated, decades-long collaboration and friendship with A Gathering of Friends, an all-new recording from Sony Classical.
The album includes the premiere recording of Highwood's Ghost, which Williams composed to celebrate the Leonard Bernstein centennial at Tanglewood in the summer of 2018, evoking the legend of a ghost said to haunt the Highwood Manor House on the Tanglewood grounds – a ghost that Bernstein memorably encountered.
Williams wrote haunting solo roles for Ma and the Boston Symphony Orchestra's principal harp, Jessica Zhou, who reunite for this recording with the New York Philharmonic.
Release date: 20 May 2022