Latest News
Bringing Classical Music into Children's Homes with TONIES®
Posted June 28, 2021
BRINGING CLASSICAL MUSIC INTO CHILDREN'S HOMES WITH tonies®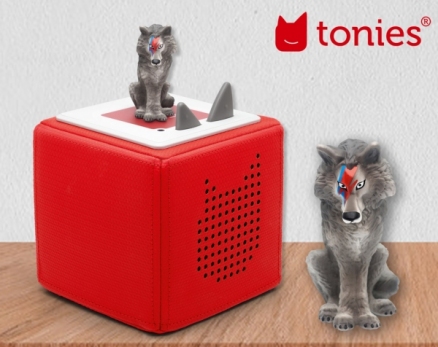 Inspiring the next generation by introducing children to classical music early, tonies® has launched a delightful double-bill showcasing charming evergreens 'Peter & The Wolf' and 'Carnival of the Animals' in a Tonie that plays these beautiful orchestral fairy tales when placed on its Toniebox audio player. Both pieces will help to introduce children to the wonders of classical music and the orchestra alike.
This new Tonie tells the popular story of 'Peter and the Wolf', narrated here in inimitable fashion by peerless culture icon, David Bowie (1947-2016). The Russian composer, pianist and conductor, Sergei Prokofiev (1891-1953) wrote his brilliant and vivid 'Peter and the Wolf' in 1936 and it is brought to life here by the Philadelphia Orchestra under the baton of legendary conductor, Eugene Ormandy, in a recording from 1978. Bowie had just recorded his famous 'Heroes' album and was still at the height of his powers, claiming that narrating the musical tale was his gift to his own seven-year-old son. The narrator tells a children's story of a boy, his grandfather and several animals, whereby the orchestra uses both a different instrument and a different theme for each character in the story. Peter, for example, is represented by the strings whilst the wolf is characterised by the French horn.
This winning combination of classical music and storytelling from tonies® is bound to fascinate and delight both children and parents, now more than ever before as parents seek alternative ways to entertain, educate and inspire their children. This captivating new Tonie will spark children's imagination and introduce them to the delights of classical music in a screen-free way that will in turn ignite their creativity and introduce them to the powerful combination of story and music. With the launch of the new Tonie that is available from 9th June, tonies® is continuing its commitment to engage young minds, support the well-being of children and help the next generation to learn and develop.