Latest News
Available Now: My West Side Story by George Chakiris
Posted March 1, 2021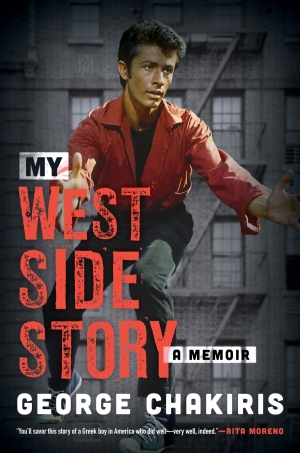 My West Side Story
A Memoir
By George Chakiris
with Lindsay Harrison
Natalie Wood and "lovely" Richard Beymer, to the mercurial Jerome Robbins and "passionate" Rita Moreno, with whom Chakiris remains friends. "I know exactly where my gratitude belongs," Chakiris writes, "and I still marvel at how, unbeknownst to me at the time, the joyful path of my life was paved one night in 1949 when Jerome Robbins sat Leonard Bernstein and Arthur Laurents down in his apartment and announced, 'I have an idea.'"
>
"George Chakiris has been my dear and beloved friend since we met on the set of West Side Story.He is godfather to my daughter, Fernanda because I felt at the time there was no lovelier, funnier and truer person. My feelings have only grown deeper, and, oh, the Hollywood stories! You'll savor this story of a Greek boy in America who did well--very well, indeed." -Rita Moreno
The Author:
George Chakiris started his acting/dancing career appearing in musicals such as Gentlemen Prefer Blondes (1953), White Christmas (1954), and There's No Business Like Show Business (1954). After appearing in the London stage production of West Side Story for two years, he was selected by Jerome Robbins to co-star in the eponymous film. Since that time he appeared in dozens of plays, films, and TV shows before retiring in 1996. He lives in Los Angeles, CA.
Related:
Interview: When your're a Jet and a Shark:West Side Story's George Chakiris (The Guardian)