Latest News
"Trouble in Tahiti" in Mecklenburg, Germany
Posted September 28, 2020
TROUBLE IN TAHITI IN MECKLENBURG, GERMANY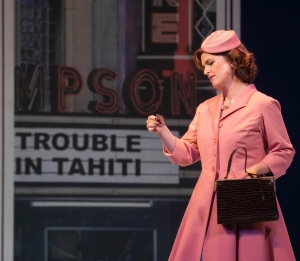 Itziar Lesaka (Dinah) in Meckelnburg Staatstheater's production of Trouble in Tahiti. ©Silke Winkler
As the European concert season begins to open up to socially distanced audiences, the Mecklenburg Staatstheater in Schwerin, Germany recently presented a sold-out performance of Triple Trouble -- an evening about adult relationships. Bernstein's Trouble in Tahiti played the central role of the evening, bookended by Samuel Barber's 10-minute opera A Hand of Bridge and a dance work, Dancin' in Paradise, with music by George Gershwin, William Grant Still, and Samuel Barber.
The production of Trouble in Tahiti, using the chamber music reduction by Garth Edwin Sunderland, featured Yoontaek Rhim and Itziar Lesaka in the roles of Sam and Dinah. Katrin Hübner, Paul Kroeger and Cornelius Lewenberg played the Trio roles, and Thies Lesaka Braun played Sam and Dinah's son Junior, in a non-singing role.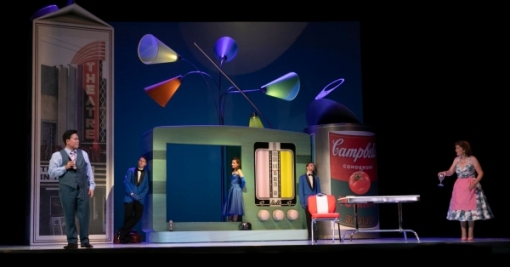 L-R: Yoontaek Rhim (Sam); Paul Kroeger, Katrin Hübner, Cornelius Lewenberg (Trio); and Itziar Lesaka (Dinah) in Mecklenburg Staatstheater's production of Trouble in Tahiti. © Silke Winkler
This production featured stage design by Kathrin Kegler and costumes by Adriana Mortelliti, capturing the spirit of 1950's United States. The director was Toni Burkhardt and the conductor Mark Rohde. Peter Larsen provided the dramaturgy.
This program will have additional performances.
MORE INFO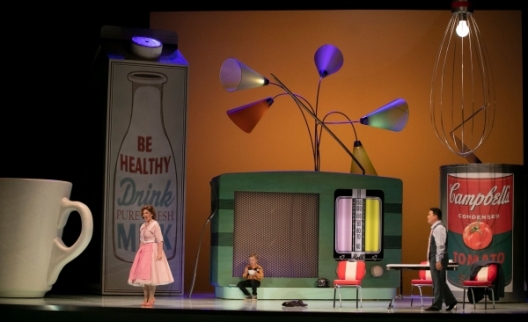 Itziar Lesaka (Dinah), Thies Lesaka Braun (Junior), and Yoontaek Rhim (Sam) in Mecklenburg Staatstheater's production of Trouble in Tahiti.· © Silke Winkler