Latest News
A Tribute to Nick Webster (1937-2020)
Posted September 1, 2020
A Tribute to Nick Webster (1937-2020)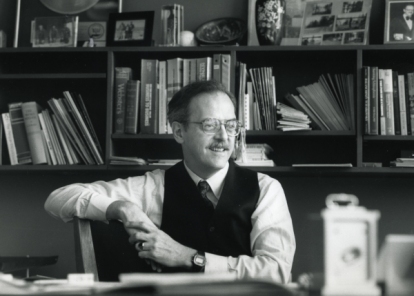 by Barbara Haws
(as printed in the Summer 2020 edition of Prelude, Fuge, & Riffs)
Albert Knickerbocker (Nick) Webster arrived at the New York Philharmonic in 1962 as Assistant to the Manager, Carlos Moseley. The Orchestra and its Music Director, Leonard Bernstein, were moving into a new concert hall - its first new home since 1891. Most of the logistics of the move to Lincoln Center, and a great deal of the behind-the-scenes ops, fell to Nick.
The new air-conditioned facility made it possible to reimagine the concert season. Year-round programming was now possible - which meant that for the first time, the musicians could be hired for fifty-two weeks, providing them with job security and a fair living wage. The Philharmonic Archives shows how important a role Nick played in pulling together all the data and projections required for the Orchestra's management to take on such a huge responsibility. And it would be this issue - adequate pay and working conditions for the musicians - that Nick would tirelessly champion throughout his career at the Philharmonic and in the orchestra world at large.
In addition to working with Leonard Bernstein, Nick was at the helm during the tenures of Pierre Boulez, Zubin Mehta, and Kurt Masur. Although working with conductors and soloists was certainly inspiring, his first love was the orchestra: the musicians and their families.
In his role as Assistant Manager, Nick was the person who got all the New York City agencies to agree to the free Parks Concerts in all five boroughs, one of his most beloved accomplishments.
Nick had a particular dedication to the Philharmonic Archives. He insisted that the collections move out of the Avery Fisher Hall basement into a new state-of-the-art facility - and that the Archivist should have a window! It was this new facility that made the argument for Leonard Bernstein's conducting scores and parts to come back to the Philharmonic. Nick always thought outside the box - and like Bernstein himself, envisioned a world where music was essential to making it a better place.
Barbara Haws is the Archivist Historian Emerita of the New York Philharmonic. In 2018 she matriculated at Oxford University as a Dphil candidate writing about U.C. Hill, the founder of the Philharmonic.
Photo by Henry Grossman, courtesy of the New York Philharmonic Leon Levy Digital Archives.