Latest News
2020 New Publications
Posted September 22, 2020
LEONARD BERNSTEIN AND WASHINGTON, DC
Works, Politics, Performances
Edited by Daniel Abraham, Alicia Kopfstein-Penk, Andrew H. Weaver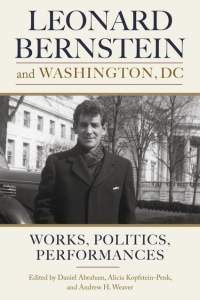 Bold new essays demonstrate how Leonard Bernstein influenced American culture, society, and politics through his conducting, composing, political relationships, and activism.
Composer, conductor, activist, and icon of twentieth-century America, Leonard Bernstein (1918-90) had a rich association with Washington, DC. Although he never lived there, the US capital was the site of some of the most important moments in his life and work, as he engaged with the nation's struggles and triumphs. By examining Bernstein through the lens of Washington, DC, this book offers new insights into his life and music from the 1940s through the 1980s, including his role in building the city's artistic landscape, his political-diplomatic aims, his works that received premieres and other early performances in Washington, and his relationships with the nation's liberal and conservative political elites. The collection also contributes new perspectives on twentieth-century American history, government, and culture, helping to elucidate the political function of music in American democracy.
The essays in Leonard Bernstein and Washington, DC, all newly written by leading authorities, situate this important American cultural figure in the seat of United States government. The result is a fresh new angle on Leonard Bernstein, American politics, and American culture in the second half of the twentieth century.
WEST SIDE STORY
The Jets, the Sharks, and the Making of a Classic
By Richard Barrios
By Turner Classic Movies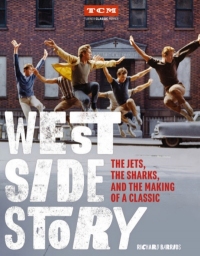 A captivating, richly illustrated full account of the making of the ground-breaking movie classic West Side Story (1961).
A major hit on Broadway, on film West Side Story became immortal-a movie different from anything that had come before, but this cinematic victory came at a price. In this engrossing volume, film historian Richard Barrios recounts how the drama and rivalries seen onscreen played out to equal intensity behind-the-scenes, while still achieving extraordinary artistic feats.
The making and impact of West Side Story has so far been recounted only in vestiges. In the pages of this book, the backstage tale comes to life along with insight on what has made the film a favorite across six decades: its brilliant use of dance as staged by erstwhile co-director Jerome Robbins; a meaningful story, as set to Leonard Bernstein and Stephen Sondheim's soundtrack; the performances of a youthful ensemble cast featuring Natalie Wood, Rita Moreno, George Chakiris, and more; a film with Shakespearean roots (Romeo and Juliet) that is simultaneously timeless and current. West Side Story was a triumph that appeared to be very much of its time; over the years it has shown itself to be eternal.
WEST SIDE STORY
A Novelization
By Irving Shulman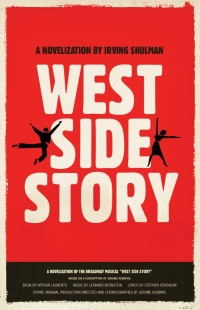 The classic novelization of one of Broadway's most enduring and beloved musicals, updated with a beautiful new cover.
Maria is young and innocent and has never known love—until Tony. And Tony, searching for life beyond the savagery of the streets, has discovered love for the first time with her, too.
But Maria's brother is the leader of the Sharks and Tony had once led the rival Jets. Now, both gangs are claiming the same turf and with tensions rising to the point of explosion, it seems there is no way to stop a rumble.
Tony promised Maria that he would stay out of it. But will he be able to keep his word or will their newfound love be destroyed by violence or even death?
Evocative and unforgettable, this novelization brings out all of the depth, drama, and beauty of one of the most enduring stories in the history of American theater.
Release Date: November 17, 2020