Latest News
Schleswig-Holstein Music Festival Leonard Bernstein Award 2020
Posted August 19, 2020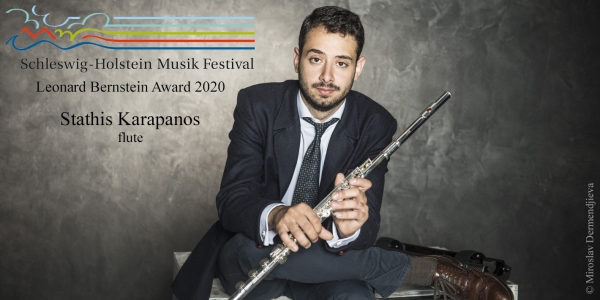 The Greek flautist Stathis Karapanos has received the Schleswig- Holstein Music Festival Leonard Bernstein Award 2020. The award of the 10,000 Euro prize is donated by the Sparkassen-Finanzgruppe.
The internationally coveted Leonard Bernstein Award is usually presented in the middle of the festival summer in the Lübeck Music and Congress Hall, showcasing the winner as soloist with the Schleswig-Holstein Festival Orchestra.
This year, the Leonard Bernstein Award took place on camera, due to the contraints of the coronavirus pandemic. Instead, a film was made of the award ceremony and the award-winner's concert, in which Stathis Karapanos, together with Christoph Eschenbach at the piano, performed works by Bach and Debussy, among others. The event was held in the Rendsburger Christkirche with a small invited audience. The Award was presented by Intendant Christian Kuhnt and Sparkassen-Finanzgruppe President Reinhard Boll.
The film will be streamed on August 28th at 8:00pm CEST (2:00pm ET) at www.shmf.de.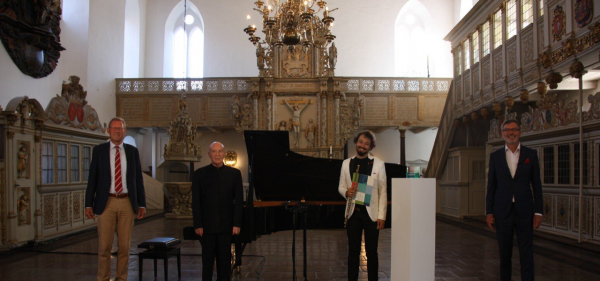 Stathis Karapanos was born in Athens, Greece in 1996. Determined to become a flute soloist from the age of 5, he enrolled in the National Conservatory in Athens at an early age, and was accepted into the National School of Music Lyubomir Pipkov in Sofia at 13, and in addition to his studies, he played regularly with the National Youth Orchestra, won various international competitions, and performed as soloist with professional orchestras.
Karapanos has performed as soloist with numerous orchestras and ensembles, including the Athens State Symphony Orchestra (Greece), FM Classic Radio Orchestra (Bulgaria), Ensemble Zeitlose Musik (Germany), and many more. He is also an active recitalist, currently performing duo-recitals with Christoph Eschenbach on piano. His unceasing desire to seek inspiration and to explore has led him to play the transverse flute, piccolo, alto-, bass-, and contrabass-flutes, in an array of contemporary styles including free jazz and hard rock.
SHMF Intendant Dr. Christian Kuhnt commented: "Stathis Karapanos is not only a technically brilliant flautist, but also has the gift of intuitively feeling music and conveying it to the audience with an impressive charisma and a high level of emotion. With him we also honor a young European whose musical career began in Greece and took him via Bulgaria to Germany and France. Once again it shows that music knows no boundaries and has a binding force - just as the eponym of the award and co-founder of the SHMF, Leonard Bernstein, exemplified."
Previous recipients are: