Latest News
Stephen Sondheim Turns Ninety
Posted August 18, 2020
Stephen Sondheim Turns Ninety
by Jamie Bernstein
(as printed in the Summer 2020 issue of Prelude, Fugue, & Riffs)
Stephen Sondheim - Leonard Bernstein's friend and colleague, and our beloved Bernstein family friend - just turned ninety years old. That's a lot! We were thrilled to witness all the celebrations and the hoopla; he deserves them all.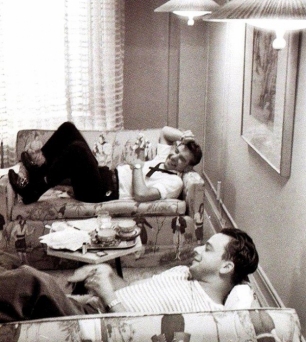 Steve came into our lives as the lyricist for West Side Story. I was all of three or four when their collaboration began; Alexander was a toddler, and Nina wouldn't be born for another few years. But in essence, Steve has always been in our lives. He was far more than just our dad's collaborator. He was also our dad's fellow wordplay hound. The two of them competed relentlessly over anagrams, crossword puzzles, and all manner of word games. They infuriated and delighted each other by regular turns. Our mother, Felicia Montealegre, loved Steve too; she appreciated his rapier wit as well as his utter intolerance for any sort of dunderheadedness.
We were disappointed that the crowning point of the Sondheim ninetieth birthday festivities - the opening of a superb new revival of his show Company, scheduled to take place on the birthday itself - was canceled, along with all other Broadway performances, in the midst of the Coronavirus pandemic. This was a terrible shame - although we suspect that the little misanthropic corner in Steve's soul might have been relieved to be spared the relentless attention (and the obligation to dress up).
But that misanthropic corner is smaller than it used to be; the Steve we know today is actually quite sunny, generous, and one of the most optimistic people we know. Our impression of Steve these days is of a man surrounded by love, and dogs, and Connecticut countryside: someone who, over the decades, wrestled many demons to the ground and created prodigious works of art in the process. Steve, we salute you. Thanks for being an inspiration and a good friend. Onward, please!
Photo: Leonard Bernstein and Stephen Sondheim working on West Side Storyin Washington, 1957. Courtesy of the Library of Congress Music Division.