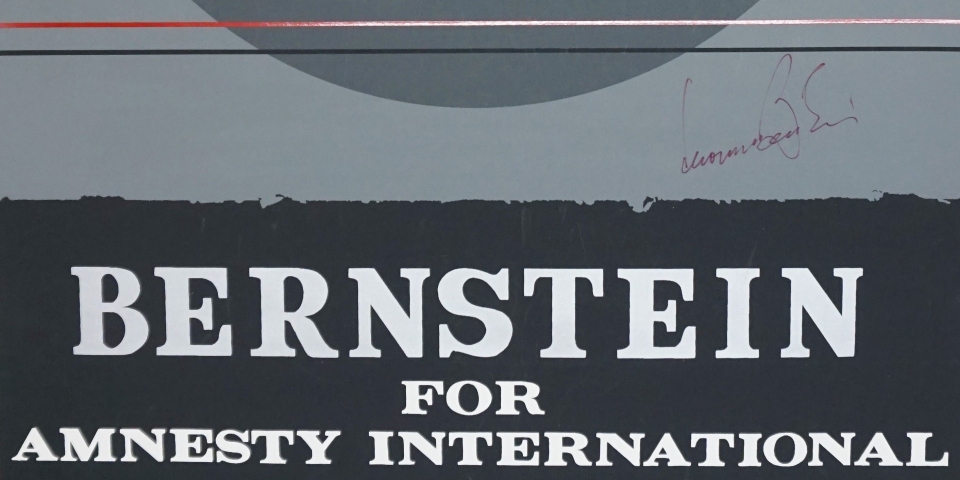 Leonard Bernstein and Amnesty International
by John G. Healey
Human rights had not yet entered the lexicon of American households in the 1970s, except in the household of Leonard and Felicia Bernstein. Felicia Montealegre Bernstein was from Chile, and Chile's military regime was ravaging her country's people with human rights abuses. Between 1973 and 1977, thousands of political activists, their colleagues and their families were tortured, killed or "disappeared." The Bernsteins not only cared deeply about persecution in Chile and elsewhere, but also translated their concerns into action by supporting Amnesty International's work. The Bernsteins wanted to see people protected from political killing, torture, and mass arbitrary arrest.
Felicia Bernstein did not live to see the fall of Chile's brutal dictatorship. To honor his late wife and to continue their joint struggle for human rights, Leonard Bernstein established the Felicia Montealegre Bernstein Fund of Amnesty International USA to provide much-needed support for human rights activists who had few resources beyond personal dedication.
The Fund was the first of its kind in Amnesty. In the early 1980s, when the Fund began disbursements, most of Amnesty's national sections, which organized services and grassroots operations in individual countries, were straining to survive. In Western countries the situation became a bit easier after Amnesty won the Nobel Peace Prize in 1977. But elsewhere in the world, sections struggled by on minuscule budgets. Through the Felicia Montealegre Bernstein Fund, Amnesty workers worldwide received critical organizing assistance.
For example, the Fund enabled the Argentina section to hold a series of training sessions for its volunteers. It provided funding for membership campaign mailings in Trinidad and Tobago and for office equipment in Israel. The Venezuela section purchased its first postage meter and the Ecuador section was able to buy a photocopier.
The Treasurer of Amnesty USA in the early 1980s, who was also one of the Fund's first trustees, took special delight in his stewardship. His prior contact with Leonard Bernstein had taken place several decades earlier, at a youth camp in Pittsfield, Massachusetts. "Uncle Lenny," as the boys called him, was the camp music coordinator. As for the Treasurer-to-be, he was a painfully shy boy facing the imminent and distressing prospect of singing before a large audience of camper and parents. "Just hold this broom, sing to the broom, and forget everything else," Uncle Lenny told him. The boy took his advice, and the performance was a success.
Through the Felicia Montealegre Bernstein Fund, Leonard Bernstein once again helped people to speak out. He knew that oppression thrives in an environment of silence and he assisted countless human-rights advocates in making their voices heard.
Felicia Bernstein would probably have found great satisfaction in the progress of human rights in her native Chile. Amnesty's Chile section, which arose as the military waned, requested and received a typewriter from the fund in 1983. In 1985, the Fund assisted the Chileans in purchasing audio-visual equipment. By the fall of 1990, Amnesty's Chile section was able to present a splendid, internationally televised concert series entitled "An Embrace of Hope."
The concerts took place in the Santiago Sports Stadium, site of unspeakable torture in the 1970s. In the 1990s, a celebration of freedom and dignity radiated from the same stadium throughout Latin America and the world. Meanwhile, Amnesty International in Chile has become the largest Amnesty International section in Latin America.
The woman honored by the Felicia Montealegre Bernstein Fund, as well as the man who established it, both understood, profoundly and personally, how precious freedom and dignity can be.
(1992)
John G. Healy served as Executive Director of Amnesty International USA.
Back to
Humanitarian
Amnesty International
Action for Human Rights. Hope for Humanity.
Poster for Bernstein with Amnesty International