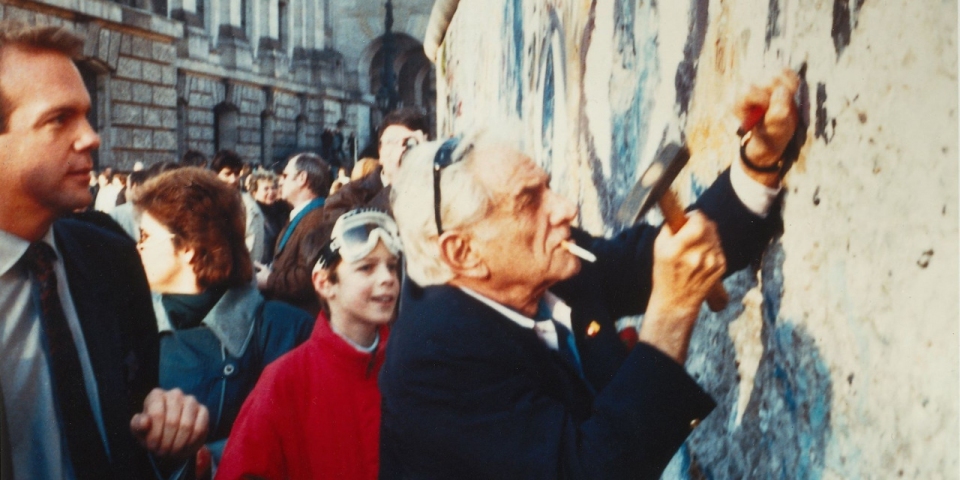 Leonard Bernstein and assistant Craig Urquhart at the Berlin Wall, 1989, Photo by Andreas Meyer-Schwickerath
Exulting Freedom in Music
by Klaus Geitel
On Christmas Day 1989 Berlin (and soon the world) experienced something like a celestial gift: the "Ode to Freedom," a composite event, spread out over the centuries so to speak, by Schiller, Beethoven - and Leonard Bernstein. The occasion was to celebrate the fall of the Berlin Wall in a manner which would impress itself once and for all on people's minds. The Ode "To Freedom" - as Bernstein had the soloists and chorus sing in the final movement of Beethoven's Ninth Symphony - indeed symbolized for many Germans a depth of joy they had hitherto hardly known: freedom, a gift from the gods.
There had always been speculation that Schiller had played a verbal game of hide-and- seek: that his poem really referred to freedom, not simply joy. In despotic times, it had seemed easier to announce (and to digest) that all people were to be brothers in joy than in the all-embracing brotherhood that can only exist in intellectual freedom. When it came to political rulers, that dangerous little word "freedom" had always tended to fall on deaf ears.
Schiller therefore supposedly undertook a poetic detour via joy, which is indeed a spark of divinity. The perception that new music is lacking in joy is probably one of the numerous reasons why ordinary people have progressively lost interest in it. Beethoven, on the other hand, continues to hold their interest. He knew how to rejoice. And, whether Schiller was really thinking of freedom or simply joy, Bernstein knew all about both.
As Bernstein's biographer (and producer) Humphrey Burton notes, the festive Berlin performances were to mark the absolute climax in the public life of the world citizen Leonard Bernstein. No other venue seemed more predestined for it than the Gendarmenmarkt in Berlin, with Reinhold Begas's Schiller Memorial in front of the wonderful steps (Bernstein would have probably called them "Freedom Steps") leading up to the "Königliches Schauspielhaus" (royal theatre) designed by Karl Friedrich Schinkel; after being resurrected from the ruins of the war, it had now been renamed "Konzerthaus" (concert hall).
It was in this building, solemnly and elegantly flanked by the German and French churches, that the German National Opera was once established. Weber's Die Freischütz was premièred here in 1821. Referred to by the sharp-tongued Berliners as the "suitcase," it replaced the theatre which burnt down in 1817 and in which Mozart, on a visit to Berlin, had attended a performance of his Die Entführung aus dem Seraglio. It therefore has a rich historical background.
The broad outer shell of Schinkel's "Schauspielhaus," in which Gustaf Gründgens directed his incomparable ensemble until the end of the war, had been used to house a prestigious concert hall - then a scarce commodity in East Berlin. Now it was ready to receive Bernstein's musical celebration of Germany's reunification.
Not only the Bavarian Radio Symphony Orchestra was to participate, but musicians from the most important orchestras in the world as well: from Dresden and from Leningrad, which now again bears the old, venerable name of St Petersburg, from London, New York and Paris. All were to combine to achieve the common goal of ringing the bell of emotion, of joy at this great, historical moment which Leonard Bernstein had conceived. He was truly more than a conductor; he shook people awake from the rostrum, surrendering to Beethoven's music and yet rendering it with all his heart and soul at the same time.
Hearing Bernstein is a poignant experience. And it is no less touching to see him at work, to follow his efforts, to perceive his alternation between reserve and extreme concentration, his welling gentleness and cheerfulness, his re-creative energy. Unobtrusively and unforgettably we become aware of what the world had (and enjoyed) in Bernstein; he was passion incarnate, the personification of musical enthusiasm and dedication. Beethoven long ago stated that music conveys mental messages in sensual terms. Bernstein gave us a vivid picture of that process.
Not one, but three choirs supported him at his great Berlin concert: the Bavarian Radio Chorus; members of the Radio Chorus of what had been East Berlin, now emerging as one of the best choirs in the world; and the large Children's Choir of the Dresden Philharmonie. It was only natural to have children participate and carry their experience of this performance into their adult lives. The solo quartet was June Anderson, soprano; Sarah Walker, mezzo-soprano; Klaus König, tenor; and Jan-Hendrik Rootering, bass.
Combined under Bernstein, they all gave more than a concert: they lit a torch for the love of freedom and the longing for freedom that extended far beyond the occasion. On the plaza, thousands of spectators, quietly and emotionally moved, watched with bated breath this musical event televised from the hall: Bernstein, Beethoven's sceptre in his hand, joining in the call for freedom.
Klaus Geitel was one of the Europe's most respected music critics and writers about music. He was a life-long resident of Berlin and passed away in August of 2016.Translation: Janet & Michael Berridge.
A DVD of this performance has been released by EuroArts in Europe and the United States and by DreamLife in Japan.
Back to
Historic Concerts
udiscovermusic
Bernstein's Legendary 'Ode To Freedom', Marking Fall Of Berlin Wall, Out Now
To mark the 30th anniversary of the fall of the Berlin Wall Bernstein's legendary live recording of Beethoven's 'Ode To Freedom' has been reissued.
Leonard Bernstein and assistant Craig Urquhart at the Berlin Wall, 1989.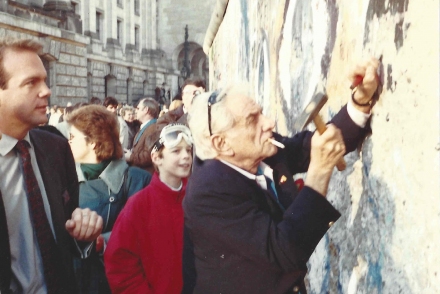 Photo by Andreas Meyer-Schwickerath