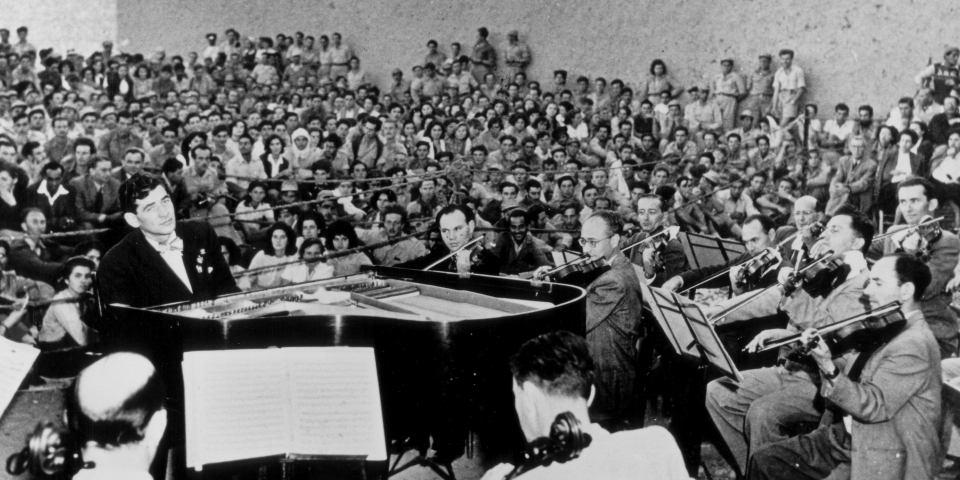 Photo by Lazar Dunner, 1948
Leonard Bernstein in Beersheba, Israel, November 20, 1948
by Susan Gould
Leonard Bernstein made musical history over and over throughout his lifetime, but only once did he also indirectly bring about unanticipated military history, when a concert of his put fear of a country's army into the armed forces of its enemy.
Among his many enthusiasms, even obsessions, the State of Israel and the Israel Philharmonic were right up there with music, peace, justice, human rights and love for all mankind – as well as being part and parcel of those central, undying passions. From 1947, for almost every year of his life, Bernstein donated his services to the orchestra, both in Israel and on tour, helping to mold it into a truly outstanding ensemble.
Probably no concert by Bernstein and the Israel Philharmonic, or by anyone else, for that matter, had the extraordinary impact of the one on November 20, 1948, in the midst of the tiny new state's War of Independence, when just about the entire Arab world was attacking.
Back in April, 1947, within two days of his first arrival in what was then still Palestine, Bernstein had already felt a profound sense of having come at a crucial juncture in the history of the Jewish people. He was deeply affected by the Jews of Palestine and their longing – and determination – to have the independent Jewish state promised them by the British thirty years before in the Balfour Declaration. He wrote to Serge Koussevitzky: "There is a strength and devotion in these people that is formidable. They will never let the land be taken from them; they will all die first. And the country is beautiful beyond description."
In October 1948, a month after he returned, he wrote again to his beloved mentor: "How to begin? Which of all the glorious facts, faces, actions, ideals, beauties of scenery, nobilities of purpose shall I report? I am simply overcome with this land and its people." In a postscript, he said: "I feel that I shall spend more and more time here each year. It makes running around the cities of America seem so unimportant – as if I am not really needed there, while I am really needed here!" Of the triumphant concerts, and wildly enthusiastic audiences, who all but worshipped him as a musical messiah, both as pianist and conductor, he described "the greatest being special concerts for soldiers. Never could you imagine so intelligent and cultured and music-loving an army!"
On November 19, the UN ordered Israel to withdraw its troops from the strategically situated Negev-desert town of Beersheba, which had been captured by the army in October as one of many military steps in the new state's struggle to survive, ongoing since its official establishment in May.
The Beersheba troops defied the UN and stayed put. The very next day, they faced an unexpected invasion: thirty-five members of the Israel Philharmonic, led (across the desert, Moses-like, as well as musically), by Leonard Bernstein, arrived from Jerusalem by armored bus. Bernstein, as "musical adviser" of what had been the Palestine Symphony Orchestra when he conducted it the year before, had been touring the war-ravaged country with the ensemble for two months, performing for long-time citizens, new settlers and soldiers alike, a grueling schedule of forty concerts in sixty days. It was not unusual to experience nearby artillery fire mid-concert, and at one performance at Rehovoth, he was called offstage mid-Beethoven piano concerto and told of a possible air raid. According to the Palestine Post, "he returned to the piano as if nothing had happened." The outwardly unflappable Bernstein said: "I never played such an Adagio. I thought it was my swan song."
Despite hope and undaunted perseverance, the country was the scene of great suffering, which Bernstein also observed, and in the course of Israel's fight for independence, some six thousand Jews died and some twenty thousand were wounded. So it was only natural and logical for him to request orchestral volunteers for another concert for the troops – those defiantly dug-in at Beersheba.
There in the desert, an archeological dig served as the concert venue, its high walls creating a three-sided amphitheater, and a makeshift stage was constructed. As reported by the South African writer Colin Legum: "The well of the amphitheater is alive with chattering soldiers – men and women of the front-line army, Jews from Palestine and the British Commonwealth and U.S., Morocco, Iraq, Afghanistan, China, the Balkans, the Baltic, even one from Lapland." Local residents arrived, and some wounded soldiers were transported by ambulance from the hospital nearby. At 3:30 PM, the concert began. Bernstein played three concerti in a row, not only a bonanza for his listeners, but also a first for him: Mozart's K. 450 in B flat, Beethoven's First Piano Concerto, and Gershwin's Rhapsody in Blue, a most extraordinary and ambitious encore! A violinist supported Bernstein's chair when it began slipping along the precarious platform.
Estimates of the audience-size ranged from one to five thousand, but in any case, when Egyptian planes reported sighting troops massing in large numbers in Beersheba, Egypt withdrew its troops from a position menacing Jerusalem in order to re-deploy them for what seemed an imminent Israeli attack in the Negev. Dr. Chaim Weizmann, who would become the President of Israel, explained the Egyptian reaction: "Who would take time in war to listen to a Mozart concerto?"
Fast-forward to 1969, not far from the site of that historic concert, when the University of the Negev was founded, inspired by David Ben-Gurion, Israel's first Prime Minister, whose vision it was to promote development of the Negev desert. His statement became the university's motto: "Israel's capacity for science and research will be tested in the Negev" and the university was renamed Ben-Gurion University of the Negev upon his death in November 1973. The university, which is public, has an enrollment of 17,400 as of 2008, with faculties in Natural, Engineering and Health Sciences; Humanities and Social Sciences; Management and Desert Research. It also offers several English-language programs including a Master of Arts in Middle Eastern Studies; International Health (in collaboration with New York's Columbia University); and BA and MA courses in the Department of Foreign Languages and Linguistics.
Back to
Historic Concerts
Concert with the Israel Philharmonic in Beersheba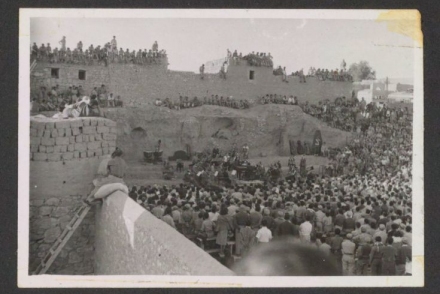 Courtesy of the Library of Congress Music Division
Bernstein playing Beethoven's 1st Piano Concerto with the Israel Philharmonic Orchestra at a concert for the armed forces during the Israeli War of Independence. Beersheba, November 1948.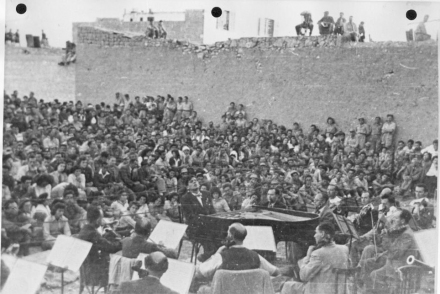 Courtesy of the Library of Congress Music Division